Psoriasis Soften Scalp Anti-Bacterial Formula
Psoriasis Soften Scalp Anti-Bacterial Formula
Psoriasis Soften Scalp Anti-Bacterial Formula
Product Description
Potent, nutritive and antifungal ingredients are quickly absorbed to improve the condition of your scalp and hair follicles.
This lightweight formula penetrates, taking its nutrients and beneficial properties to the source of irritation with nutritive moisture to instantly soothe and calm.
Deodorizers like Manuka, Tea Tree and Oregano essential oils help balance and neutralize any unwanted odors.
This Soften Scalp Anti-Bacterial Formula is made free of alcohol, artificial fragrances and free of any other chemicals that could disturb your skin's balance.
Your scalp is left feeling calm, soothed and purely refreshed.
Made fresh in the USA. Gentle enough for daily use.
Can be utilized on both men and women.
Soothe and calm with nature's best ingredients that provide nutrients to your scalp for relief.
Daily or leave-in overnight formula refreshes and soothes your scalp while you sleep.
Neem Oil has been used as a medicinal herb for nearly 5,000 years. It contains azadirachtin, a compound which gives Neem oil its antibacterial, antifungal and anti-parasitic properties.
Manuka Oil's medicinal uses have been known for a long time among the Maori, the original inhabitants of New Zealand.
Oregano Essential Oil is one of the most potent essential oils. The antibacterial properties of Oregano essential oil were first recognized in ancient Greece.
Enriched with Vitamin E to restore, rebalance and help deodorize scalps.
Tea Tree is an antibacterial oil that will relieve and soothe dry, irritated scalps.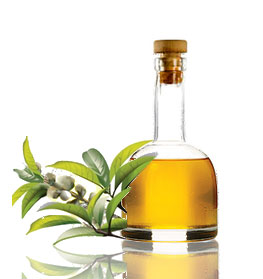 After shampooing and conditioning your hair, apply a small amount to your scalp.
Massage your scalp gently, allowing the serum to penetrate.
This is a leave-in product; it is not necessary to rinse.
Blow dry or air dry as usual. May be used daily.
This serum may be used in combination with any other of our hair serums.
Tips
• This product can be used daily. We suggest using it after shampooing and rinsing with lukewarm water.
• Always try to finish your shower with the coolest water you can stand. This will make your hair frizz free and close the cuticle to make it shinier.
• To boost your conditioner's moisturizing properties, mix a bit of this oil with your conditioner.
Leptospermum Scoparium (Manuka) Oil, Melaleuca Alternifolia (Tea Tree) Oil, Calophyllum Inophyllum (Foraha) Oil, Pongamia Glabra (Karanja Seed) Oil, Simmondsia Chinensis (Jojoba) Oil, Lavandula Angustifolia (Lavender) Oil, Rosemarinus Officinalis (Camphor) Oil, Hippophae Rhamnoides (Sea Buckthorn) Oil, Vitis Vinifera (Grapeseed) Oil, Ribes Nigrum (Black Currant Seed) Oil, Azadirachta Indica (Neem) Oil, Origanum Vulgare (Oregano) Oil, Cymbopogon Flexuosus (Lemongrass) Oil, Citrus Sinensis (Orange)Oil, Tocopherol (Vitamin E).
Customer Hair reviews and testimonials are provided for informational purposes only. Customer Hair reviews and testimonials reflect the individual Hair reviewer's results and experiences only. Hair results may vary based on individual user. There's no guarantee of specific results and results can vary.
I have never been to the dermatologist, but since this condition runs in my family, I believe I likely have a mild case. This fungal product helped control flakes, and redness of my scalp. It also doesn't affect the way my hair looks or smells. I think I just might be a customer for life!
Diane F Norman OK
This nutritive scalp product has proven to be highly effective for me in curtailing the terrible itch and red inflammation of nearly three years of struggling with inflamed skin. I consider discovering hair products with these ingredients, a Godsend.
John B Rochester NY
My scalp was on fire and I was miserable. It really works. Soothing and cooling. After a while, I didn't need to use it any more.
Marie Adams Portland OR
This is the best scalp product I've found to alleviate the itching and flaking associated with inflamed skin. This has been far more effective than all the OTC coal tar, pyrithione zinc, selenium sulfide and hydrocortisone shampoos and scalp products out there. I apply this product liberally every night to a clean scalp.
Kim B Effort PA
I have rosacea and have spent a lot of money on doctors, ointments and all types of prescription medicine. Unbelievably it has been the only scalp product which has kept the redness, pimples and itch under control! Once in the morning before I put on my makeup and once in the evening before bed. REALLY! I can't believe it myself.
Susan L San Mateo CA
Hi - I have suffered from a sore/smelly scalp for the last 3 years. Seen 4 dermatologists, tried a dozen over the counter and prescription shampoos, but nothing helped. I'm using your line of itchy scalp products and scalp fungus product and FINALLY relief ! Thank you, Thank you, Thank you for making a line that's not only clean, but that actually works!!! Forever Grateful! -
Lisa G Lexington SC
It works wonders! Have had a terrible itchy scalp before, but not anymore! This product is simple and excellent. No strange ingredients that do nothing my scalp. I had a bad case of itchiness with flakes, and I tried this. It works, it really works. After two usages my itching is gone.
Robert N Anchorage AK
This is amazing if you have itching. After years of trying off-the-shelf and prescription products, many of which destroyed my hair texture, this stuff did the trick. I use it once a week and it keeps my scalp itch free and makes my hair soft and glowing. I don't know what I'd do without it. Really.
LISA R West Chester PA