Psoriasis Soften Skin Soap #Psoriasis Soap#
Psoriasis Soften Skin Soap #Psoriasis Soap#
Psoriasis Soften Skin Soap #Psoriasis Soap#
Product Description
Soothe Psoriasis, Eczema and other dry itchy skin types
Soap is an important part of skin care. It becomes more so if you deal with psoriasis, eczema, dry flaky, cracked or callused skin.
Unfortunately, many cleansers and soaps have harsh chemicals that may cause irritation, dryness, itching and prolong flare ups.
Some gentle cleansers even contain sodium chloride, better known as salt. Salt with skin issues such as psoriasis doesn't seem like a good idea.
Simply changing to a nutritive more natural soap could be all it takes to help change the appearance and feel of your skin.
Fragrances are one of the biggest potential skin irritants that you may face and avoiding them may help.
Our soap is fragrance-free for those with psoriasis or other skin conditions seeking a cleaner alternative.
We think that you might find this to be the best soap ever! It rubs into a thick, creamy lather to cleanse gently without damaging the skin's barrier and is mild enough for even the most sensitive of skin.
Rich emollients from Avocado and Shea soften and soothe itchy, extra dry skin.
Made in the USA with the best ingredients from around the world.
Jamie says-
Switching to this soap from just nutritive was one of the best skin health decisions that I've ever made. I love this soap. I have psoriasis with sensitive skin and ordinary, chemical laden soaps with lots of smell to them do not work at all for me. This makes great lather and feels good to use. This has helped keep my skin softer and more moisturized.
Gently cleanse, soothe, and nourish your skin with our Soften Skin Soap.
Your skin will look and feel softer and more radiant after using our nutritive soap.
Rich, creamy lather to help skin on your face, hands, and body retain its natural moisture.
This gives you a gentle, mild cleansing that leaves skin feeling moisturized and smoother than ordinary soap.
No Artificial Fragrance No Sulfates No Parabens
Lisa says-
This soap REALLY works. It didn't get rid of all the psoriasis, but it made it better. Gentle, and I mean gentle! If you want improvement of your skin without a ton of nonsense, this soap is the way to go.
Rachel says-
This is AMAZING. Since I started using this soap for psoriasis the results were overwhelming. My hands are now free of psoriasis. Very gentle on your skin. I would highly recommend this soap to people who have psoriasis or sensitive skin.
Made in the USA.
Made without parabens, sulfates, artificial colors, or fragrances.
Coconut Oil has antibacterial and antifungal properties that penetrate deep into the skin.
Shea Butter moisturizes and reduces inflammation.
Sweet Almond Butter is perfect for dry, itchy skin that needs extra moisture.
Avocado Oil has been used to smooth skin and is great for skin conditions due to its high content of Vitamins A and E.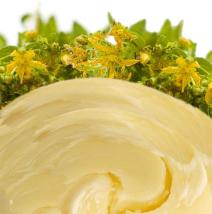 After washing, soap should be allowed to air dry.
Do not let the soap sit in water. Place it in a dish to allow it to dry after each use.
This will help it last longer.
TIPS
• Can be used with other skin products.
• Use our soften lotion to moisturize skin.
Persea Americana (Avocado) Oil, Butyrospermum Parkii (Shea Butter), Cocos Nucifera (Coconut) Oil, Prunus Dulcis (Almond Butter), Palm Kernel Oil (Palm Kernel) Oil, Olea Europaea (Olive Fruit) Oil, Arecaceae (Palm) Oil, Ricinus Communis (Castor Bean) Oil, Saponified, Vitis Vinifera (Grape Seed) Extract, Camellia Sinensis (Green Tea) Extract, Origanum Vulgare (Oregano) Oil, Glycyrrhiza Glabra (Licorice Root) Extract, Berberis (Mountain Grape Barberry) Extract, Helichrysum Gymnocephalum (Helchrysum) Oil, Leptospermum Scoparium (Manuka) Oil.
Customer Product reviews and testimonials are provided for informational purposes only. Customer Product reviews and testimonials reflect the individual Product reviewer's results and experiences only. Product results may vary based on individual user. There's no guarantee of specific results and results can vary.
I have had psoriasis for years. Been to doctors and specialists. Used prescriptions and everything else. This worked for me. I am clear now after only using this soap for two months. Try it, cheaper than seeing a doctor!
Heidi K Woodinville WA
The only soap I can use for my daughter! Contains no perfumes. Soothes her skin when it's inflamed.
Edith D Arlington TX
I have a bad case of psoriasis on my hands which causes them to crack very badly. I tried other soaps and they would always dry out my hands which made it worse. Since using this nutritive soap my hands have improved. Great product would recommend anyone with very dry skin or psoriasis to try it and see what a difference it makes.
John S Astoria NY
I USE THE PRODUCT FOR BATHING, FACIAL CLEANSING EVERY ASPECT OF THE PRODUCT IS APPRECIATED!
Gayle A San Jose CA
I LOVE this soap!!! I have psoriasis and I always have problems finding a soap for my super sensitive skin. Love the fact it is botanical and unscented. I have often get a rash from scented harsh chemical soaps. No more rashes with this gentle soap.
Linda G New York NY
This product is great, i use it twice a day morning and night. My skin feels soft and clean after using this soap. Great for ones who have sensitive skin, because it calms and soothes the flare ups.
Julia S South River NJ
My skin is soft and smooth. I started using it on my face too. The skin on my face is so soft. Other soaps would make my face dry and itchy. It doesn't leave a film on the tub like other nutritive soaps I have tried. Many nutritive soaps don't lather well, not this one! It is a keeper for sure.
Lynda C Palo IA