Vinegar Nutritive Rinse Cleanser #Relaxed Hair#
Vinegar Nutritive Rinse Cleanser #Relaxed Hair#
Vinegar Nutritive Rinse Cleanser #Relaxed Hair#
Product Description
Why Vinegar Has Been Used for Centuries for Hair and Scalp Care
If your hair has lost the volume, shine or radiance it once had or even if you are experiencing an increase in loss, this Vinegar Nutritive Rinse Cleanser is for you.
Your hair follicles may have become clogged from years of chemical build up, heat styling, or even from what's in the air. This cleanser helps to restart and re-balance your hair and scalp by gently cleansing to remove built up residue, dirt or other debris.
The natural acids and enzymes that apple cider vinegar contains may also fend off bacteria and fungus leaving your scalp refreshed like never before and your hair with more sheen and a voluminous appearance.
Healthier looking hair begins with a healthier scalp.
Made with more than 25 scalp and hair loving ingredients like Andiroba, Comfrey, Sea Buckthorn – called the super fruit, and much more including Panthenol Vitamin B5.
If you are experiencing hair fall or any scalp issues you owe it to yourself to consider this vinegar rinse.
Jackie B says-
First it is not just apple cider vinegar and Second it's great for your scalp, hair and hair loss!
We all know about the benefits of apple cider vinegar, but this product is loaded with tons of other herbal extracts, essentials and stuff for hair loss and the scalp. Yes, it does smell like vinegar but the other ingredients are very present too, so that the vinegar is not that strong of a scent.
It's not like pure vinegar. This is not too liquidly either. Anyways back to the reason why I bought this. Over the years I have had thinning and some hair loss for any one of many reasons. But I thought product was something easy that I could incorporate into my hair care routine. I have been using it for about 3 months now and can say that my hair has never looked so good but most importantly my hair seems to be sprouting new shoots of growth. Yea! For those who want to see some hair back on their head, this will help, the process may be slow but it works for me and it is not as thick as I like wanted but it is wonderful to see any new growth!!!! Thank you Just Nutritive for such a wonderful product.
Hair loss is still largely misunderstood. Some believe that an excess buildup of a hormone called DHT (Dihydrotestosterone) that both men and women have may be a factor that can cause the loss of hair and that DHT can build up around hair follicles.
Apple Cider Vinegar contains alpha hydroxy acids, is loaded with vitamins and minerals, and may help scalp pH levels.
Vinegar is naturally anti-bacterial and anti-fungal.
Anti-fade, color safe formula. Chloride-free and sulfate-free.
Ash says-
I seriously count down the days until I can use this product again. (Directions on the bottle recommends to use every 15 days). One word to describe it would "refreshing". After using it I apply the protein treatment to my hair (Every 15 days as well). I wish I could use this product everytime I wash my hair. It gives my thin hair volume and makes it look so healthy. Will be buying again and again!
Cynthia says-
This rinse leaves your hair and scalp feeling VERY clean and my hair so shiny. My scalp is usually itchy and gets oily within a day or so, with this it leaves my scalp refreshingly clean and No itch! I use this first and lather it up good and leave in for few minutes, rinse then follow with hair loss shampoo, leave in few minutes, rinse. This is now part of my regular routine and I can't be without.
The Vinegar Nutritive Rinse Cleanser provides shine, health, and comfort to damaged hair.
Closes hair cuticles, allowing hair to be detangled and stronger.
Reduces frizz by smoothing cuticles.
Repairs to prevent split ends and breakage.
Healthier looking hair.
Unclogs follicles and deep cleanses.
Safe for color treated hair and gentle enough for daily use.
By helping close cuticles, it can assist in maintaining keratin treatments, perms, colors and other treatments.
Preserves hair color and protects hair from sun, wind and pool water damage.
Apple Cider Vinegar has many benefits including antibacterial and antifungal properties. It cleanses and clarifies the hair and scalp, naturally detangles, reduces frizz, adds natural body and defines curly hair, adds shine, reduces porosity of the hair, aids healthier looking hair growth, and prevents split ends and breakage.
Andiroba Oil has been used for centuries for its potent properties. It helps reduce frizz and moisturizes the hair and scalp.
Sea Buckthorn Oil is renowned for its unique composition of fatty acids, amino acids, vitamins and minerals, making it an ideal addition to your skin and hair care regimen.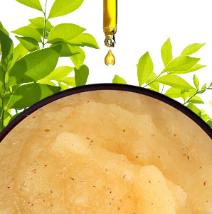 Shake well. We recommend using the v]Vinegar Nutritive Rinse Cleanser once every fifteen days, but you may use it more often if desired.
After shampooing your hair, apply an adequate amount to your scalp.
Massage your scalp gently.
Leave the rinse on for one to three minutes, then rinse well with warm water.
Follow with conditioner and style as usual.
Excellent for keeping in new colors.
Tips
• We suggest you combine this product with our serums. This would be used first to cleanse the scalp, then you would use our serum either in wet or dry hair. This process allows the serum to penetrate the scalp more effectively.
• This product can be used on color treated hair. We suggest using this product before you get your hair colored or about two weeks after your hair has been colored to prevent the color from bleeding.
• We suggest that the vinegar be used every week or every other week depending on how much buildup there is on the scalp and how physically active you are.
Acetic Acid (Apple Cider Vinegar), Aloe Barbadensis (Aloe Vera Hydrosol), Carapa Guianensis (Andiroba) Oil, Symphytum Officinale (Comfrey Root) Extract, Angelica Sinensis (Dong Quai Root) Extract, Eleutherococcus Senticosus (Eleuthero Root) Extract, Glycyrrhiza Glabra (Fo-ti Root) Extract, Pongamia Glabra (Licorice) Extract, Echinacea Purpurea (Karanja See) Oil, Urtica Dioica (Echinacea) Extract, Hippophae Rhamnoides (Nettle Root) Extract, Serenoa Repens (Sea Buckthorn) Oil, Equisetum Arvense (Saw Palmetto) Extract, Ascophyllum Nodosum (Horsetail) Extract, Sodium Lauroyl Lactylate (Kelp) Extract, Caprylyl/Capryl Glucoside,Yucca Schidigera (Yucca) Extract, Xanthan Gum, Glyceryl Caprylate, Phenethyl Alcohol, Glycerin, Citrus Sinensis (Orange) Peel Oil, Betula Lenta (Birch)Oil, Citrus Paradisi (Grapefruit) Oil, Cymbopogon Flexuosus (Lemongrass) Oil, Anthemis Nobilis (Chamomile) Oil, Salvia Sclarea (Clary Sage) Oil, Mentha Piperita (Peppermint) Oil, Melaleuca Leucadendra (Cajeput)Oil, Rosmarinus Officinalis (Rosemary) Oil, Panthenol (Vitamin B5).
Customer Product reviews and testimonials are provided for informational purposes only. Customer Product reviews and testimonials reflect the individual Product reviewer's results and experiences only. Product results may vary based on individual user. There's no guarantee of specific results and results can vary.
I've been relaxing my hair for half my life now, so you can only imagine the damage (cringe). I am so glad my friend recommended this to me! I've been trying to take better care of my hair nowadays and this has truly helped. My hair is really shiny right out of the shower and soft. I'm looking forward to purchasing the relaxed shampoo and conditioner next!
Trudie Lamm New Castle, IN
just finished my first wash with it! very nice clean feeling and improves my hair's texture. i will continue to use it.
Belva Shumate Woodbridge, VA
Unfortunately got a bad relaxer done by a salon I thought was good and my hair was absolutely messed up. Breakage here, frizz there. I saw a post on pinterest and took a shot in the dark with this rinse and I could not love the results MORE. the hair fall has decreased by a LOT and hopefully it will make a full recovery fast. thank you for such an excellent product!
Cherlyn Naquin Santa Ana, CA
An amazing fast working product. My relaxed hair recovers a lot faster from the chemicals after i use this cleanser. highly recommend
Jen Childs Fords, NJ
I relax my hair because dealing with impossible curls has been the bane of my existence. I can say with utmost positivity that using this with the shampoo and conditioner keeps my hair going between the serums. the product line is so gentle on my hair and my hair is growing even with the relaxers! that should speak for itself. I'll always be purchasing these forever more.
Naida Dolan Colorado Springs, CO