Product Description
Miracle Deep Leave-In Conditioner – Made with the Good Stuff for You and Your Hair
Many conditioners out there are made with chemicals that have unpronounceable names and may end up sitting on your hair and scalp as build up that gradually with time may cause scalp and or hair problems.
These are just a few of the ingredients that can be found in many of today's popular conditioners - Amodimethicone, Serine, Arachidic Acid, Trideceth-6, Pyridoxine Hcl, Chlorhexidine Dihydrochloride, CI 191140/Yellow, PPG- 2 Methyl Ether, and PEG-8.
Some ingredients may be absorbed and penetrate into your hair and scalp. But is that something that you really want?
Imagine instead using this creamy leave-in conditioner made from wholesomeness goodies, that transforms and leaves hair looking healthy and smooth, with a luscious, healthy sheen. With your first use, you will see and feel a noticeable improvement.
Exclusive leave-in formula designed to add manageability for detangling, smoothing, eliminating frizz, restoring shine, and enhancing the natural looking body.
Crafted with the best ingredients from around the world. This Leave-In Conditioner is a hair nutritive leave-in conditioner made with ingredients that love your hair and scalp. Natural goodies like Babassu, Meadowfoam, Rose Hip, essentials, plus extracts to deliver beneficial vitamins, minerals and proteins for lasting, beautiful, and naturally healthy-looking hair.
Great for all hair types to bring out natural luster, shine, and softness with every use.
Adele says-
I love this leave-in Conditioner! It detangles, smooths and leaves your hair smelling great! It definitely detangles as I was able to run the comb through my hair pretty easily. As I blow dried my hair, I could right away see and feel that it was soft, light and had more flexibility. The scent is really nice and pleasant. The ingredients make all the difference for me. Trying to clean up my routine by using less junky products some of my previous products gave me dandruff. So I am happy to be using this.
Perfect for all hair types and can be used by both men and women.
Excellent for curly, dry, frizzy and/or chemical-treated hair that needs to be brought back to vibrancy.
Our Leave-in Conditioner provides dry, damaged hair with moisture, shine, manageability, and smoothness. It also helps detangle, strengthen and prevent split ends.
This nutritive leave-in conditioner will leave hair with restored shine, strength and frizz-free smoothness.
Tammie says-
I've never found a leave-in conditioner that work so well. My hair has some damage after years of coloring and using heat on it daily. My hair looks so much healthier and feels so soft. I won't go anywhere without it. My hair is moist, frizz-free, sleek, and manageable. I LOVE the richness of the leave-in conditioner. Never looked so good!
Rachel says-
It gives your hair and curlies more life. I do not use any other conditioner anymore because this is all I need. Where has just nutritive been all my life? I have literally been looking for a leave-in conditioner like this my whole life. It smells delicious and works the first time every time. Perfect hair time after time!
This leave-in conditioner helps protect and maintain keratin treatments, perms, colors, and other hair treatments.
Gives brilliantly healthy shine, helps detangle, controls frizz, strengthens hair, and prevents split ends.
Seals in hair color to last longer, protects hair from sun and wind damage, protects from swimming pool water damage (chlorine). Also seals cuticles for extra silky hair, restores hydration and protein.
Free of silicone, parabens, color additives, or artificial fragrances.
This creamy leave-in conditioner for hair nourishes using moisture rich botanical Kukui Nut oil with its essential fatty acids that penetrate hair strands to help repair damage and leave hair looking restored, healthy and moisturized.
Jojoba and Rice Protein give weak hair added strength to prevent damage and breakage.
Babassu oil helps add shine and manageability by moisturizing dry, brittle, or damaged hair, restoring its elasticity and strength without weighing hair down.
Nutritive oils from Avocado and Meadowfoam penetrate hair to provide lasting nutritious and beneficial hydration without leaving residue.
Fenugreek, Calendula, and Horsetail extracts are nutritive emollients that help strengthen and moisturize hair, leaving it with more luster, health, and shine.
Pomegranate Seed oil helps rejuvenate dry, porous hair by transforming it into bright, silky and shiny hair.
Sandalwood Essential Oil moisturizes dry hair and promotes healthy hair.
Rose Hip Fruit Oil has been used to soothe scalp irritation and increase scalp hair elasticity while providing shine and luster to strands.
Green Tea Leaf Extract is known to stimulate hair follicles and soften hair. It contains polyphenols and Vitamin C&E for lustrous hair.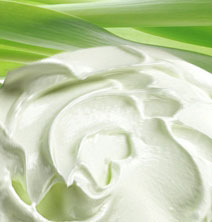 Apply an adequate amount of our nutritive leave in conditioner from mid-shaft to ends on wet, shampooed hair.
Depending on your thickness and length, you want an amount that thorougly coats the hair.
Work anything that's left through the roots and crown.
Do not rinse.
Style as usual.
Gentle enough for daily use.
TIPS
• You can use this product as a rinse out conditioner or add oils to it to make it a deep conditioner.
• This product is excellent for curly hair. It is great for detangling hair and giving it moisture.
• Can be used on children ages 5 and up. Please speak to your doctor in regards to using this product on a child younger than five.
• If you have fine or thin hair, apply a small amount from mid-shaft to ends.
• Comb your hair from your ends upwards to prevent breakage.
• Allow your hair to air dry or use the lowest setting on your dryer.
• Try to use gentler methods of hair styling to keep your hair looking its best. Do not use chemicals too frequently. Tight hairstyles, rubber bands, and metal hair clips should all be avoided.
Aloe Barbadensis (Aloe Vera Hydrosol), Orbignya Oleifera (Babassu) Oil, Equisetum Arvense (Horsetail) Extract, Limnanthes Alba ( Meadowfoam Seed) Oil, Hydrolyzed Jojoba Protein, Santalum Album (Sandalwood) Oil, Trigonella Foenum Graecum (Fenugreek) Extract, Rosa Rubiginosa (Rose Hip Fruit) Oil, Vegetable Cetyl Alcohol, Behentrimonium Methosulfate, Punica Granatum (Pomegranate Seed) Oil, Hydrolyzed Rice Protein, Persea Americana (Avocado) Oil,Calendula Officinalis (Calendula Flower) Extract, Olea Europaea (Olive) Oil, Rosmarinus Officinalis (Rosemary) Oil, Polyquaternium 10, Citrus Sinensis (Orange) Peel Oil, Citrus Paradisi (Grapefruit) Oil, Camellia Sinensis (Green Tea) Leaf Extract, Cocos Nucifera (Coconut) Oil, Aleurites moluccanus (Kukui Nut) Oil, Simmondsia Chinensis (Jojoba) Oil, Polyquaternium 7, Panthenol (Vitamin B5), Vanilla Planifolia (Vanilla Fruit) Extract, Tocopherol (Vitamin E).
Customer Product reviews and testimonials are provided for informational purposes only. Customer Product reviews and testimonials reflect the individual Product reviewer's results and experiences only. Product results may vary based on individual user. There's no guarantee of specific results and results can vary.
This is also great to use before drying or ironing it adds that extra shine and softness that hair tends to lose over time from drying and constant hair damaging products and heat styling. Guaranteed to have a good hair day.
Maureen O. Rockaway Park, NY
This is the best hair product I have ever used, easily. Before I would use hair serum, and a straightening spray or gloss cream. It goes on light and doesn't weigh my hair down and doesn't make it greasy. Now I use only this nutritive leave in conditioner, and my hair looks ten times better.
Karri A. Arnaudville, LA
It's 10 out of 10! My hair is healthy, shiny, bouncy and not frizzy! It cuts down on styling time a lot. I'm so happy that I found something that delivers what it promises since that is rare.
Judith L. Miami, FL
This Nutritive Leave In Conditioner made my hair ten times more silky and soft then with any other product I've used. I put it in my hair when it's wet, it detangles, softens, shines, and does everything it says. Then I blow dry and straighten my hair. Throughout this whole process, my hair is being protected by the leave-in product. I saw a difference in my hair after the first time I used it! You won't be disappointed.
Michelle D. Redmond, WA
I have fine hair that gets easily tangled, and some of my hair is super curly, and some are completely straight. This helps to smooth my hair and keeps my hair looking sleeker and healthier. I think it's worth trying no matter what hair you have, just a great all around product. This by far surpassed all of the leave in moisturizers I've used.
Monica D. Huntersville, NC
This is one of the best conditioners I have ever used! I use sparingly, comb it through, and don't worry about my hair the rest of the day. It leaves my hair so soft and easy to manage. Love - love love it!!
Dannielle P. Cincinnati, OH
It's amazing!! This gives me a sleek look when I flat iron it. I can wear my style longer, and it's because of this conditioner. I have tried many different conditioners, and this is the best by far.
Teresa S. Santa Ana, CA
This leave in hair conditioner is better than I can put into words. PLEASE keep in mind though; a little goes a long way, I've got bad parched hair. Really curly and fine. I also color my hair, and I'm getting older, so my hair is drier. This one of the best products I've ever used both because it works well to keep my hair soft, moisturized and because the nutritive ingredients are so earth-friendly.
Marion J. San Rafael, CA
Adore this Cream! It is reaching HG status! It moisturizes and softens my coarse kinky hair. This leave in conditions my split ends without weighing it down. When I straighten my hair, you can see that my hair does not have any broken strands. I gave my mom some of this conditioner and she bought two of them. Please don't discontinue or reformulate this product.
Liberty A. Des Moines,IA
My once bouncy, supple curls become dry, mushy and stringy due to experimenting with the ombre. My ends were frayed, brittle and fell apart. I bought this leave in conditioner per recommendation of my sister who has a similar hair type like me. I have been using the leave in conditioner for about 4 to 5 weeks, and I am thankful. The leave in conditioner allows a comb or brush to slip through tangles, helps soften my hair and creates gorgeous curls. I order two or three jars at a time when you guys have a sale.
Jada M. Albuquerque,NM
This is the best leave-in conditioner. I have bleach blond dry, kinky hair that gets tangled and matted. I like the thick creamy texture and very neutral smell. When I apply this product to my hair, my Denman brush glides through my hair. My curls are under control, soft and manageable.
Daniel S. Rapid City,SD
This leave in conditioner puts other leave in conditioners to shame. I read lots of reviews on this product in regards to how this conditioner works on different hair types. I was planning to use this on my hair and my son's hair. We both have fine curls and waves that get frizzy depending on the climate. Any leave in conditioner in the past has either made our curls look wet and weighted down or wiry and unkempt. I was surprised when I received this to be in a tub and the cream to be so creamy and thick. I was skeptical of it at first, but it is truly the most luxurious product I've used. I use about a dime to quarter size amount of the leave-in to my hair and less than that on my son. I can comb through his and my hair in half the time plus my son is not crying in agony. Indeed an incredible product to say the least.
Nova M. Nampa,ID
This is literally the only leave in conditioner that I am using.I love how this conditioner makes my hair manageable and sleek. Use a small amount of this product as it is very rich. I use my paddle brush or a wide-tooth comb to distribute the product all over your hair. The smell isn't noticeable to me but that's ok because I don't have heavily fragranced products. I've noticed that my hair has gotten longer with constant use.
Fiona I. Hot Springs,AR