Sunless Tanning - Dark Tones
Sunless Tanning - Dark Tones
Sunless Tanning - Dark Tones
Product Description
Customer Product reviews and testimonials are provided for informational purposes only. Customer Product reviews and testimonials reflect the individual Product reviewer's results and experiences only. Product results may vary based on individual user. There's no guarantee of specific results and results can vary.
Product arrived in timely fashion. Using this product is best when wearing some type of plastic glove - no streaks, and no messy hands. This product really applies nicely and works fast - looks like I have been at the beach for a week in the sun with just a few applications. I highly recommend this to anyone looking to get some great color this Spring-Summer if you don't have time to be in the sun or just don't want to be exposed to those damaging rays.
Lisa H. Mobile, AL
I have a medium tan skin tone and I love the way my skin looks when it's tanned. Since I live up north, I can't really lay out in the sun all the time and I absolutely hate tanning beds. I have tried many self-tanners that have done nothing to tan my skin or made me look like a tangerine. I do the usual wash and exfoliate on my skin and I apply this lotion in layers. I developed a lovely bronzed tan that looks incredibly natural.
Cara E. Malden, MA
Absolutely love this stuff! I have used other self-tanners that leave my skin a terrible orange color. This tanner came through the mail extremely fast and when I opened the product it smells like lemons and oranges. I am already naturally tan but I love the extra color I get from this self-tanner. I get very nice bronze glow after about half a day. My family compliment how nice my tan is and how healthy it looks. I personally think this is the best self-tanner I've used.
Pam R. Newport News, VA
I'm a skeptic when it comes to self-tanners due to fear of turning orange. This self-tanner has surprised me. I love how it gives my skin a subtle glow and sheen to my light brown skin. I did allow the tanner to dry on my skin for 25 minutes before trying to put on my clothing. I love that this product is so natural and doesn't have a funky smell.
Raina J. Rock Springs, WY
This is the prettiest tan I've ever gotten in the comfort of my own home. It smells great, and my skin looks even better. I love knowing that tanning can be natural without hurting myself in the long run. I even got my husband to start using it!
Ashleigh L Jacksonville, FL
I really, and I mean really, hate how my skin has the tendency to tan unevenly. So I went out on a whim and purchased Dark Tones. My skin FINALLY matches, it's silky and shiny and getting so dark so fast. This is the first self tanner I'll never regret buying.
Candace F San Antonio, TX
I think this product is great not only cause it actually works, its cause my skin is now very soft. I dont have to apply moisturizer after taking my showers I just put this on instead especially cause Im looking for that extra color. where has this been all my life?!
Hailey K Columbus, IN
I have been using this JN Self-Tanner for Dark Tones for a couple of weeks and it is the best tanner I have ever tried.It is very effective. You get an attractive natural looking tan that lasts for days. I reapply this product every two to three days to maintain the color. It is great for sensitive skin and does not break me out. I suggest following the directions and apply the lotion to your rougher areas like your knees, elbows, wrist and ankle for smooth even results.
Hazel N. Dayton, OH
I have olive tone skin but my legs have a difficult time getting tan. This lotion has become the only product I self-tan with. It gives me the most natural tan and if I want a lighter color I can just mix it with my regular body moisturizer. I saw that my tan developed within 6 hours( the usual work day for me).The texture is very light but not runny and has a nice lemon citrus scent. I share this product with my twin and she loves it as well. I can't wait to order more!
Lily O. Tucson, AZ
Get the Dark, Tropical Tan You Crave at Home
At Last! A sunless tanner for that dark natural color you deserve. Plus, it's formulated with Natural ingredients unheard of in other sunless tanners like the super fruit Sea Buckthorn.
Moisturizers like Sweet Almond, Grape Seed, Cherry, Apricot, Macadamia, Sunflower and so much more! These natural ingredients help provide wonderful looking and feeling hydrated skin.
Stretch marks, cellulite and other imperfections can appear diminished as a gradual flawless, natural looking dark tan color develops after each use.
Quick and Easy. No waiting to rinse off in a shower. Apply and Go. No artificial color or fragrance.
clt31 says –
I've tried a lot of self tanners, but this one has to be the best. I have dry skin, so when I use other self tanners, my skin gets really dry. This one is more like a moisturizing tanner. It makes your skin soft and moisturized. It is a white lotion, so it doesn't have the tanning guide. I like to use my hands to put it on, just like a regular lotion. Then I wash them using a pumice stone and it comes right off. Even though it doesn't have the tanning guide, your hands will get a little darker by the time you're done using it. I highly recommend this product.
Get a dark bronze color with radiant skin tone for the most natural-looking sunless tan ever!
Apply and Go! No rinsing off needed. Get dressed immediately.
Vitamin E, and essentials of palmarosa and grapefruit are loaded with anti-oxidants.
Made right here in the USA with the best ingredients from around the world.
Continue to use until you have reached your desired level of tan, then as needed to maintain.
After you have finished the application, allow a minimum of 8 hours or longer before taking a shower.
Melvina H says –
I absolutely love this product !! It works better than anything I have ever used. I really hope this product doesn't go away. I have ordered 3 bottles so far just to make sure I don't run out. 1 bottle does Last a long time also I just wanted to get extras to make sure I had it for later. I would recommend this product to anyone.
Nola says-
I literally had color the next day. Applied 1 more time the next day to achieve my desired color and I am,SOOO HAPPY! Less time in the sun, and less stress of spray tanning myself. Just make,sure I keep my,skin moisturized to keep the color rolling. I know,the areas I have to apply a little,more too and have had no problem. The only thing I do wish is that it would hold that fresh scent vs going into the sunless
Keep your skin even toned and radiant without the assistance of a tanning bed or the sun.
Sweet Almond Oil removes rids the skin of impurities and smooths it.
Coconut Oil is an excellent moisturizer and creates an antibacterial shield that protects the skin from irritation and inflammation.
Grapeseed Oil has moisturizing properties and helps tighten skin.
Rice Bran Oil contains squalene that boosts skin health and protects it from damage.
Apply to face and body as desired, as you would with a moisturizing lotion, taking care to avoid hair.
For best results, cleanse and exfoliate skin and apply on dry skin.
Use less product on elbows, knees and heels to prevent deeper tanning in these areas.
Use gloves or wash hands and nails immediately with soap after application to avoid discoloration.
Allow to dry completely before dressing.
You will begin to see a development of color within 12 to 24 hours.
To maintain or deepen your desired shade of tan, reapply 1-2 times a week or continue to use once daily until you have reached your desired level of tan and maintain as needed.
Purified Water (Aqua), Prunus Amygdalus Dulcis (Sweet Almond) Oil, Cocos Nucifera (Coconut) Oil, Vitis Vinifera (Grape) Seed Oil, Olea Europaea (Olive) Oil, Oryza Sativa (Rice) Bran Oil, Hippophae Rhamnoides (Sea Buckthorn) Fruit Oil, Dihydroxyacetone, Prunus Armeniaca (Apricot) Kernel Oil, Prunus Avium (Cherry) Kernel Oil, PEG-150 Distearate, Cetearyl Alcohol, Polyquaternium-37, Cyclomethicone, Simmondsia Chinensis (Jojoba) Seed Oil, Erythrulose, Macadamia Ternifolia Seed Oil, Caprylhydroxamic Acid (and) Caprylyl Glycol (and) Glycerin, Helianthus Annuus (Sunflower) Seed Oil, Amyris Balsamifera (Amyris) Essential Oil, C12-15 Alkyl Benzoate, Cymbopogon Martini (Palmarosa) Essential Oil, Citrus Grandis (Grapefruit) Peel Oil, Citric Acid, Tocopheryl Acetate (Vitamin E).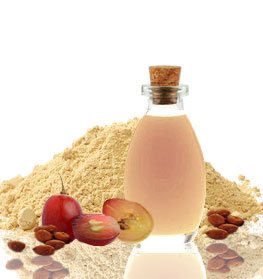 Product Reviews
Write Review
Showing reviews 1-10 of 525 | Next
Summer Tan

Posted by Unknown on Oct 8th 2018

I do love this product! I may have used it to many consecutive days, I did notice I started to turn a little more orange after day 4, I think next time, I will do it every other day, maybe layering to many days in a row caused the slight orange tone.

Winter Dry Skin Lotion

Posted by Kathleen on Oct 6th 2018

I ordered self tanner, and they included a sample of the winter dry skin oil. Omg what a gorgeous scent! Did a massage with it on my boyfriend who loved it. Soaks right into the skin and is not greasy! I'll be ordering again.

Great Product

Posted by Aimee O'Neil on Sep 28th 2018

I really love this product. It has great color (not orange looking) and the odor is light and refreshing. I only didn't give it 5 stars because knees and ankles are tricky to not have them looking too dark.

Best gradual tanner I've ever used

Posted by Chloe on Sep 27th 2018

I used to use gradual tanners regularly but turned to fake tanning for a few years, not really ever having found a gradual tanner that made me dark enough or applied too good or didn't make my skin feel weird or smell funny.. you get the idea. I applied Thursday night, it's now Friday afternoon. I wasn't expecting to see much colour pay off at all, but I started to see change within the first 2 hours of application and now, I look like I've had the perfect amount of sun. (I love being extra dark so I will continue applying. Also be careful, wash your hands thoroughly after applying or wear gloves) Not only that, but my skin feels amazing!

So happy I took a chance!!

Posted by Unknown on Sep 20th 2018

Sunless Tanning (Dark Tones) is the best product I have used to achieve my summer dark tan and color throughout the year. I was skeptical when I saw the ads on Pinterest but they are spot on! Better than any store bought self tanners, is true to a tan color in no time, stays on, doesn't stain, smells great and is lightweight! I just bought 2 more bottles to hold me thru the year into next! It's a keeper!!

Great so far

Posted by Linda H on Sep 18th 2018

I have used many different tanners. So far this is doing a great job. It gives me a believable tan. It is very easy to apply with a mit allowing me to skip the hand washing process and not staining my nails. One thing I noticed which is a plus is it didn't turn my bath water brown like most of the other ones I've used so it is staying on my skin. Big plus. This is the first bottle I have used so I will keep ordering it - love it!

wonderful product

Posted by Dawn on Sep 7th 2018

Am very pleased with this product. Bought a light weight sponge mitt designed to apply evenly. Will continue to use to avoid too much sun to get this healthy look. Ingredients are moisturizing, and won't leave skin looking parched.

My favorite self tanning lotion ever.

Posted by Christine Santana on Sep 4th 2018

I absolutely love just nutritive self tanner. I get the perfect tan everytime, no streaking, natural looking color. I love that it is botanical based without a any added chemicals, parabens, perfumes, or toxins. Wonderful product makes your skin so soft and nourished. I have recommended it to about 20 different woman friends. They all started using it they thank me for sharing it with them.

The best Tan without sitting in the sun

Posted by Unknown on Sep 3rd 2018

I have been using this product for a couple of weeks now. Living in Florida, I love the idea of having a tan, but I hate sitting in the sun, sweating, sometimes burning, sometimes I have gotten sun poisoning even when using the best protection from the sun rays. I found this product online. I ordered it. Best thing I have ever done. Within a matter of days, I got the tan that I wanted without having to do any of the above. The compliments that I have received have been many. I told them where and how to achieve the same look. It is so worth it. I have ordered 2 more bottles so I don't run out. I can have a year long tan if I want. It keeps your skin hydrated, smooth, and best of all, tan. Use it a couple of times a week to maintain the color you want. Highly recommend it.

Best Lotion I have ever used

Posted by Sharon T. on Aug 29th 2018

I have been using the sunless tanning dark tone for over a year. I actually use is year round. Living in NW Jersey & Florida i get to keep a year round glow that is so natural. I get so many compliments. Use this product the way it is intended to be used wash you hand immediately afterwards not a big deal. Even coloring, smell is great, not sticky and does not stain. You want a natural looking glow and color this is the product by far.
Showing reviews 1-10 of 525 | Next