Sunless Tanning - Dark Tones #Lotions#
Sunless Tanning - Dark Tones #Lotions#
Product Description
Get the Dark, Tropical Tan You Crave at Home
At Last! A sunless tanner for that dark natural color you deserve. Plus, it's formulated with Natural ingredients unheard of in other sunless tanners like the super fruit Sea Buckthorn.
Moisturizers like Sweet Almond, Grape Seed, Cherry, Apricot, Macadamia, Sunflower and so much more! These natural ingredients help provide wonderful looking and feeling hydrated skin.
Stretch marks, cellulite and other imperfections can appear diminished as a gradual flawless, natural looking dark tan color develops after each use.
Quick and Easy. No waiting to rinse off in a shower. Apply and Go. No artificial color or fragrance.
clt31 says –
I've tried a lot of self tanners, but this one has to be the best. I have dry skin, so when I use other self tanners, my skin gets really dry. This one is more like a moisturizing tanner. It makes your skin soft and moisturized. It is a white lotion, so it doesn't have the tanning guide. I like to use my hands to put it on, just like a regular lotion. Then I wash them using a pumice stone and it comes right off. Even though it doesn't have the tanning guide, your hands will get a little darker by the time you're done using it. I highly recommend this product.
Get a dark bronze color with radiant skin tone for the most natural-looking sunless tan ever!
Apply and Go! No rinsing off needed. Get dressed immediately.
Vitamin E, and essentials of palmarosa and grapefruit are loaded with anti-oxidants.
Made right here in the USA with the best ingredients from around the world.
Continue to use until you have reached your desired level of tan, then as needed to maintain.
After you have finished the application, allow a minimum of 8 hours or longer before taking a shower.
Melvina H says –
I absolutely love this product !! It works better than anything I have ever used. I really hope this product doesn't go away. I have ordered 3 bottles so far just to make sure I don't run out. 1 bottle does Last a long time also I just wanted to get extras to make sure I had it for later. I would recommend this product to anyone.
Nola says-
I literally had color the next day. Applied 1 more time the next day to achieve my desired color and I am,SOOO HAPPY! Less time in the sun, and less stress of spray tanning myself. Just make,sure I keep my,skin moisturized to keep the color rolling. I know,the areas I have to apply a little,more too and have had no problem. The only thing I do wish is that it would hold that fresh scent vs going into the sunless
Keeps your skin even toned and radiant without the assistance of a tanning bed or the sun.
Sweet Almond Oil rids the skin of impurities and smooths it.
Coconut Oil is an excellent moisturizer and has an antibacterial shield that protects the skin from irritation and inflammation.
Grapeseed Oil has moisturizing properties and helps tighten skin.
Rice Bran Oil contains squalene that boosts the skin's health and protects it from damage.
Apply to face and body as desired, as you would with a moisturizing lotion, taking care to avoid hair.
For best results, cleanse and exfoliate skin and apply the Sunless tanner on dry skin.
Use less product on elbows, knees and heels to prevent deeper tanning in these areas.
Use gloves or wash hands and nails immediately with soap after application to avoid discoloration.
Allow to dry completely before dressing.
You will begin to see a development of color within 12 to 24 hours.
To maintain or deepen your desired shade of tan, reapply 1-2 times a week or continue to use once a day until you have reached your desired level of tan and maintain as needed.
Purified Water (Aqua), Prunus Amygdalus Dulcis (Sweet Almond) Oil, Cocos Nucifera (Coconut) Oil, Vitis Vinifera (Grape) Seed Oil, Olea Europaea (Olive) Oil, Oryza Sativa (Rice) Bran Oil, Hippophae Rhamnoides (Sea Buckthorn) Fruit Oil, Dihydroxyacetone, Prunus Armeniaca (Apricot) Kernel Oil, Prunus Avium (Cherry) Kernel Oil, PEG-150 Distearate, Cetearyl Alcohol, Polyquaternium-37, Cyclomethicone, Simmondsia Chinensis (Jojoba) Seed Oil, Erythrulose, Macadamia Ternifolia Seed Oil, Caprylhydroxamic Acid (and) Caprylyl Glycol (and) Glycerin, Helianthus Annuus (Sunflower) Seed Oil, Amyris Balsamifera (Amyris) Essential Oil, C12-15 Alkyl Benzoate, Cymbopogon Martini (Palmarosa) Essential Oil, Citrus Grandis (Grapefruit) Peel Oil, Citric Acid, Tocopheryl Acetate (Vitamin E).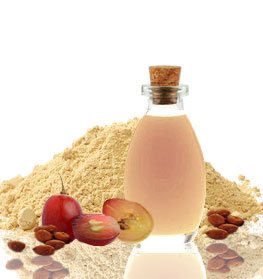 Customer Product reviews and testimonials are provided for informational purposes only. Customer Product reviews and testimonials reflect the individual Product reviewer's results and experiences only. Product results may vary based on individual user. There's no guarantee of specific results and results can vary.
This product is by far the best sunless tanning product that I have ever used, even expensive name brands that you pay an arm and a leg for. It gives you a natural tan, to a dark tan depending on how you like, its gentle on my skin and conditions and helps with dry skin!! Will definitely use again as well as the other products they have to offer!!
Jenni L. Edmond, OK
I truly love this tanner. I am on tan side but when I want to look tanned and beautiful, I apply this product. I look like a gold princess/goddess when I am tan. Consider this product when you want to look radiant.
Bea C. Atlantic City, NJ
I try to stay away from a tanning bed or the sun due to their damaging effects.This lotion is great as it is easier and cheaper than going to a salon. It produces a very nice natural bronze color and smells like lemons and oranges.I tried this tanner and it darkens my skin a lot quicker. This usually happens while I sleep or doing any errands. I really do love the natural ingredients and how much softer this make my skin compared to other tanners.
Bella I. Bowling Green, KY
I have been using this JN Self-Tanner for Dark Tones for a couple of weeks and it is the best tanner I have ever tried.It is very effective. You get an attractive natural looking tan that lasts for days. I reapply this product every two to three days to maintain the color. It is great for sensitive skin and does not break me out. I suggest following the directions and apply the lotion to your rougher areas like your knees, elbows, wrist and ankle for smooth even results.
Hazel N. Dayton, OH
I have olive tone skin but my legs have a difficult time getting tan. This lotion has become the only product I self-tan with. It gives me the most natural tan and if I want a lighter color I can just mix it with my regular body moisturizer. I saw that my tan developed within 6 hours( the usual work day for me).The texture is very light but not runny and has a nice lemon citrus scent. I share this product with my twin and she loves it as well. I can't wait to order more!
Lily O. Tucson, AZ