Sunless Tanning - Anti-Aging #Anti-Aging#
Sunless Tanning - Anti-Aging #Anti-Aging#
Sunless Tanning - Anti-Aging #Anti-Aging#
Product Description
Customer Product reviews and testimonials are provided for informational purposes only. Customer Product reviews and testimonials reflect the individual Product reviewer's results and experiences only. Product results may vary based on individual user. There's no guarantee of specific results and results can vary.
It creates a perfect subtle glow. I have used this lotion multiple times and definitely see the difference. My skin does not look dry or patchy either the day after. The natural ingredients make my skin look very nourished and the smell is quite delightful. I am a women nearly in my 70s and everyone wants to know my secrets for having skin that looks so youthful. Another amazing product from Just Nutritive!
Valentina A. Tacoma, WA
I have tried so many different brands of self-tanners and this lotion is still one of the best tanners. I am in my late 50s with very fair skin and this lotion does not make my skin patchy nor orange.The smell is pretty light for me so I don't get offended by it. I apply a thin amount on my moisturized skin and wait about 5 minutes to apply another layer. My skin gets lightly bronzed and healthy within the next day. My friend constantly asks me what I was using. It's a bit difficult to apply to the rough areas of the skin but this is still a great product.
Ruby I. Bend, OR
I usually hide my legs under long pants, skirts, or jeans. I am so embarrassed about how bright my legs are. I bought this for when I want to wear shorts or skirts. This lotion adds color to my pale legs and lightly cover my sun and age spots. The smell for me is pretty strong. The lotion blends nicely into the skin without getting sticky. The tan stays on for a couple of days and this product does not rub off on my clothing. It is a very good tanner for anyone who wants to get the natural tone to any part of their body.
Nina U. Newport, RI
Best self-tanner out there.The lotion does not smell bad, is made with natural ingredients, and make my crepey skin look smoother and healthier. I love that my skin would look orange but I turn to a very pretty golden tan. Exfoliating is a must for smooth even color. My husband asked me if I have gotten a tan outside. This is a keepsake!
Phoebe M. Carson City, NV
I highly recommend this product for anyone looking for some natural looking color. It is a very smooth lotion that glides like better than some of my favorite moisturizers. The lotion gives me a soft natural tan with a bit of dewiness. To maintain the tan, I apply a small amount every day. I do recommend to shave and exfoliate before apply for smooth coverage!
Rosalie S. Utica, NY
Get a Flawless Golden Tan.
At last a sunless tanner for your skin type. Get that natural golden glow you deserve today!
This aids in diminishing the appearance of stretch marks, cellulite, wrinkles and other imperfections.
Skin loving borage seed, jojoba, rosehip and more deliver goodness to rejuvenate for a more radiant appearance.
This anti-aging sunless tanner quickly and simply delivers wonderful natural hydration and skin color.
Quick and Easy. No waiting to rinse off in a shower. Apply and Go. No artificial color or fragrance.
Heidi R. says –
I've tried many self tanners this year. This one is the best by far!! Easy to use. There's no streaking, no orange tone. Leave skin soft and moisturizer. It's as easy as applying lotion after the shower. Can use daily to build your tan or just a few times a week. It's very natural looking tan all over. You can ever use on your face and neck. That's a huge plus for me. I will definitely buy again!! Well worth the cost. Plus it's less expensive than other prestige self tanners
Applies evenly with no streaks, just a 100% natural-looking tan with yummy richness.
Vitamin E, and essentials of myrrh and geranium are loaded with anti-oxidants.
Get a bronze finish and radiant skin tone for the most natural-looking sunless tan ever!
Made right here in the USA with the best ingredients from around the world.
Continue to use until you have reached your desired level of tan, then as needed to maintain.
After you have finished the application, allow a minimum of 8 hours or longer before taking a shower.
Terri says –
I stopped going to tanning beds over a year ago and have been looking for a good sunless tanning lotion. I hit the jackpot with Just Nutritive Sunless Tanning lotion! As I am in my 60's and need to moisturize daily, this product provides many ingredients that is good for aging skin. My daughters thought I had started using tanning beds again and were very surprised when I told them about this product. So many sunless tanning lotions streak and leave skin blotchy orange, but not Just Nutritive!! Highly recommend this product!
Kathy D. says-
I love this self tanner after 2 applications I got the perfect brown tan color not at all orangey i should mention I do have a light tan color all year long. Just follow the directions. I used a salt scrub on the tops of my feet, elbows and knees. I also put a little lotion on these area before using this tanner. Great tan color. Will buy this product again im throwing away my other self tanners. Takes 2 days to get deepest tan color after using product 2 days in a roll.
Provides color without damage from the sun or tanning bed.
Nutritive Borage and Jojoba boost moisture, softness, and shine of skin.
Rosehip Oil protects skin from damage with Omegas 3, 6 and 9.
Pumpkin and Carrot Seed oils improve skin tone, help wounds recover more rapidly, fight acne and help with skin renewal.
Apply to face and body as desired, as you would with a moisturizing lotion, taking care to avoid hair.
For best results, cleanse and exfoliate skin and apply on dry skin.
Use less product on elbows, knees and heels to prevent deeper tanning in these areas.
Use gloves or wash hands and nails immediately with soap after application to avoid changes of color.
Allow to dry completely before dressing.
You will begin to see a development of color within 12 to 24 hours.
To maintain or deepen your desired shade of tan, reapply 1-2 times a week or continue to use once a day until you have reached your desired level of tan and maintain as needed.
Purified Water (Aqua), Borago officinalis (Borage) Seed Oil, Simmondsia Chinensis (Jojoba) Seed Oil, Rosa Canina (Rosehip) Fruit Oil, Prunus Amygdalus Dulcis (Sweet Almond) Oil, Helianthus Annuus (Sunflower) Seed Oil, Dihydroxyacetone, C12-15 Alkyl Benzoate, Cyclomethicone, PEG-150 Distearate, Cetearyl Alcohol, Polyquaternium-37, Caprylic/Capric Triglyceride (Coconut Oil Fractionated), Vaccinium Macrocarpon (Cranberry) Seed Oil, Erythrulose, Linum Usitatissmum (Flax) Seed Oil, Cucurbita Pepo (Pumpkin) Seed Oil, Oryza Sativa (Rice) Bran Oil, Caprylhydroxamic Acid (and) Caprylyl Glycol (and) Glycerin, Daucus Carota Sativa (Carrot) Seed Oil, Commiphora Myrrha (Myrrh) Oil, Pelargonium Graveolens (Geranium) Oil, Citric Acid, Tocopheryl Acetate (Vitamin E).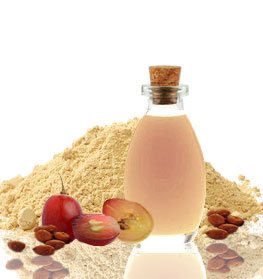 Product Reviews
Write Review
Showing reviews 1-10 of 33 | Next
BEST SELF TANNER ON MARKET!!!!

Posted by Unknown on Nov 8th 2018

Beautiful Tan...looks like you've been at the beach without the harmful rays. No streaks, no mess. Apply as you would a lightly applied moisturizer. Wash hands with dawn after applying to prevent tanning of palms and fingers. This product will amaze you.

This product is great!

Posted by Cindina on Nov 8th 2018

I love this stuff, it goes on very smooth and moist and when I wake up in the morning I have more color on my face.

wonderful natural even colored tan

Posted by Caris on Oct 24th 2018

Lightly scented quickly absorbed tanning lotion that you can build you tan color level

Perfect Sunless Tanner!

Posted by Lisa on Sep 12th 2018

I absolutely love this product...very easy to apply, and natural looking results. I get compliments on my tan all the time!

Won't come out of the bottle!

Posted by Patricia Roseman on Jun 22nd 2018

Love the look! It goes on well, does not run, stays on well to condition my skin, and the tan itself is not orange. BUT, it is so hard to get out of the bottle. I have to pond it to get it to come out! Suggestions?

Good color!

Posted by KwBreton on Jun 14th 2018

Purchased the anti-aging - so not sure how that works, or if it will. For some reason, I thought I was getting an oil but its a lotion. I put it on my legs before bed & I had a nice colored tan the next morning. It rubs in well so as not to get on clothing or sheets - oil may be worse for this. Smells alright; not good or bad.

Geeat Product!

Posted by Kylie T on Apr 23rd 2018

I absolutely love it! Much quicker than any tanning bed I've tried! 2 applies & I am the shade I want to be! Great for proms or weddings if you want the look of natural tan skin! My skin feels smooth & moisturized! It smells good too which is a huge plus too! Definitely worth the cost, highly recommend.

Sunless tanner anti-aging

Posted by KRISTI Mitchell on Apr 5th 2018

I have mixed feelings about the product... It does have a smell, but goes away after a bit. It gives a nice color all over but does look orange on knuckles and feet no matter how carefully I rub the product in. Overall it's just like in other self tanner in my opinion. It does make your skin feel soft.

Wow, it's true!

Posted by Unknown on Mar 16th 2018

This really works in a very natural, gentle way while somehow giving my skin an improved texture that's smoother to touch. I like the way it goes on and doesn't streak. I've only applied it twice, yet can see a very pleasing light tan has appeared already. Glad I ordered this, as the shade of tan is perfect.

Awesome suntan without the sun!

Posted by Unknown on Feb 27th 2018

When I was younger, I loved sitting out in the sun, but now that I'm in my 70's, I've smartened up. I bought this product and must say it gives me a lovely, even tan without streaks and doesn't stain my clothes or my bedding. I have had a lot of compliments on my "tan" and I love that there are no chemicals in this product. I've purchased several bottles as gifts for friends back home.
Showing reviews 1-10 of 33 | Next