Nutritive Creamy Styling Gel
Nutritive Creamy Styling Gel
Nutritive Creamy Styling Gel
Product Description
Give Your Hair a Soft, Controllable Hold
Our Nutritive Creamy Styling Gel will effortlessly moisturize, style, and hold your hair.
Made with herbal ingredients like Aloe Vera and Olive Oil, our creamy gel will moisturize the driest hair to make it softer, shiny and smooth.
This gel does not contain alcohol, parabens, nor artificial colors, fragrances and dyes and does not flake, dry or clog your hair follicles.
This gel is perfect for all hair types and textures. It will provide the hair with shine, control, softness, and manageability.
Our Nutritive Creamy Styling Gel can be used daily and is suitable for men and women.
Contains Rice Protein to strengthen and nourish weak, damaged strands.
This product will leave your hair soft, defined and hydrated while maintaining all types of hairstyles.
Our Nutritive Creamy Styling Gel provides a soft, controllable hold.
Free of Alcohol, parabens, and artificial colors, fragrances or dyes.
Enriched with plant-based butters and oils, essential oils, and herbal extracts to provide hair with strength, shine and body.
Safe to use on chemically treated and color treated hair.
Made in the USA.
Can be used by men and women.
Reduces frizz, maintains hairstyles, and protects hair from sun, wind and swimming pool (chlorine) damage.
Aloe Vera has been used to nourish and heal dry, damaged hair, making it soft, manageable and strong.
Olive oil is used to deeply penetrate and condition the hair shaft for luster and resilience.
Cocoa Butter is used to keep hair soft and healthy. It is also known to have healing properties to restore hair health.
Evening Primrose Oil is packed with omega-6 that effectively stops damage and breakage.
Helichrysum Essential Oil has healing and regenerative properties that stimulate blood circulation, promoting optimal hair health and reducing itchiness and dryness of the scalp.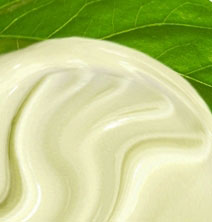 Can be used on damp, towel dried, or dry hair.
Apply a small amount of gel on palms or fingertips, then rub hands together to make a thin layer of gel.
For damp hair, start at roots, working the gel throughout your hair.
Blow dry hair to style.
For dry hair, start at roots and work the gel throughout your hair, lifting to style.
TIPS
Always set your blow dryer to a low setting to prevent heat damage.
Air drying the hair is the best and least damaging way of drying your hair.
If you have curly hair and must dry your hair with a blow dryer, we suggest using a diffuser. This will prevent unnecessary frizz and will set your style in place.
When detangling in the shower, we suggest using your fingers to detangle larger knots safely. You can feel and unravel knots easier this way. Remember to use either an oil or conditioner to help loosen the knot first.
Use this product last in your hair routine. If you add all your other styling aids before, you will get a lot more hold out of this product.
Aloe Barbadensis (Aloe Vera Hydrosol), Oenothera Biennis (Evening Primrose) Oil, Olea Europaea (Olive) Oil, Theobroma Cacao (Cocoa) Butter, Cocos Nucifera (Coconut) Oil, Glycerin, Behentrimonium Methosulfate, Cetyl Alcohol, Hydrolyzed Rice Protein, Citrus Sinensis (Sweet Orange) Peel Oil, Helichrysum Gymnocephalum (Helichrysum) Oil, Dehydroxanthan Gum, Phenethyl Alcohol, Althaea Officinalis (Marshmallow Leaf) Extract, Vaccinium Myrtillus (Bilberry) Extract, Arnica Montana (Arnica Flower) Extract, Glycerin, Carbomer, Glyceryl Caprylate, Phenethyl Alcohol, Panthenol (Vitamin B5).
Customer Product reviews and testimonials are provided for informational purposes only. Customer Product reviews and testimonials reflect the individual Product reviewer's results and experiences only. Product results may vary based on individual user. There's no guarantee of specific results and results can vary.
This creamy gel has been doing wonders for my daughter's hair. She is seven years old with thick long unruly hair. I have tried everything to manage her hair and this product has done the best job. I can easily comb and style her hair without her crying in pain. Thank you. You have saved the day!
Luisa S. Lancaster, PA
This gel provides me with control to my frizzy hair. It has rained a lot in the town where I live and my hair has not turned into a frizz ball. I am amazed by your line of products.
Paula L. Ogden,UT
Loving how my hair feels with this product. I have fine long hair that is on the thin side and I use a very small amount throughout my hair to blow dry. I get soft hair and volume from this product. And the amount I get for the price is also great as well.
Julie E. , Lafayette,LA
I like how most of your product have very light scents. I have an aversion to many products due to my sensitivity to heavy scents. This product has a light scent and has provided my thick wavy hair with body and hold to last the whole day!
Marcy G. Carmel, IN
Favorite gel for the moment. My hair is naturally dark brown dyed to a light auburn blond. My hair was a dry mess. I have bought many products to help protect and repair it. This creamy gel helps maintain my style and nourish my hair to become my hair soft, moist, and smooth. I provide a very nice flexible hold that is not stiff, crunchy, or sticky.
Wendy B. Jacksonville,FL
It works wonderfully as a defining cream and leave-in. I use this on wet or damp hair and allow my naturally curly hair air dry. My hair stays moisturized, stretched, and full of bounce. This product does not flake, isn't stiff and very nourishing to my hair and scalp. It adds a bit of hold and definition without the crunch. If you want more hold, you could mix this product with a stronger hold gel.
Lacey P. Portsmouth,NH
I have been self-bleaching and coloring hair since I was a teenager. My hair was fried, dyed and laid to the side. My hair could not take anymore chemicals because it was breaking up in pieces. I bought your whole line of color care product and this styling cream. My hair is slowly surely getting better with these products. I have high hopes that these products will grow my hair healthier and stronger.
Haley J. Cedar Rapids,IA
I love this creamy gel. My hair has a mind of its own. Some days it wants to behave and the next it is a frizzy nest. I needed a product that would help hold my curls without making it hard and sticky. When I used this product for the first time, I was amazed. My hair stayed curly for days after wash day. It comes in a huge jar which will last me a very long time.
Fatima K. Fort Collins,CO
My hair is a mix of 3C/4A curls that is very thick. At times, it gets very difficult to style and my curls convert to be a frizzy ball of fluff. I bought this gel along with your shine polish. I apply this gel to my damp hair and comb it throughout my hair. I let my hair air dry completely. My curls are well defined and soft. My wash and go's last the whole week and my hairstyles look a lot nicer. I apply a tiny bit of the shine polish on top and my hair looks shiny. I love it!
Amina H. Covington,KY