Posted by Just Nutritive on Dec 17th 2020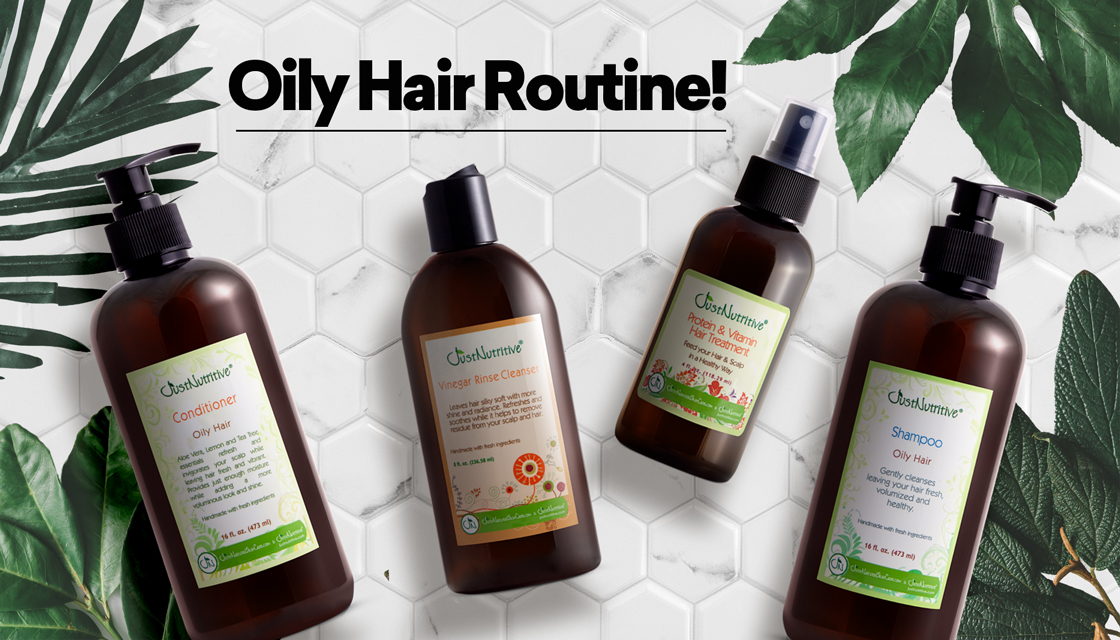 HAIR CARE ROUTINE
-OILY HAIR-
It is very common for those with oily skin to have oily hair. Skin type does not vary between the visible surface and your scalp. Oily skin means oily scalp and if your scalp is oily, your hair will automatically become oily.
This is primarily due to excess secretion of oil.
How to Recognize this Hair Type?
The hair looks dull and lifeless most of the time.

However much you shampoo, your hair will look greasy and limp in just a day or two.

Excess oil secretion leads to dandruff which results in a lot of hair fall.
The majority of shampoos and products for oily hair contain sulfates that cleanse the hair aggressively, stripping all the natural oils that the hair needs, and this forces the sebaceous glands to produce more sebum. For this reason, to achieve a softer and more effective cleaning, you should opt for sulfate-free products for oily hair.
For this reason we have designed a hair care routine specifically for oily hair, which is responsible for removing accumulation and the extra oil from the scalp without mistreating it, and it will give it nutrition and the correct hydration; so it's healthy but not greasy.
Step 1

Detoxify
With Vinegar Rinse Cleanser
Helps to re-balance your hair and scalp by gently cleansing to remove built-up residue, dirt, extra oil, or other debris.
Shake well. The vinegar rinse is recommended to be used one time each fifteen days. But you may use it more often if desired.

Massage your scalp gently.

Leave the rinse on for one to three minutes and then rinse thoroughly with warm water.
Step 2
Cleanse
With Oily Hair Shampoo
Deeply cleanses your scalp and hair, purify oily roots and remove excess oils. We recommend washing from 2 to 3 times per week.
Shake well before each use.

Wet hair thoroughly.

Massage the shampoo into your hair. Gently and in circles.

Leave it on your hair and scalp for a few minutes, so the active ingredients have time to work through.

Rinse off.


Step3

Condition
With Oily Hair Conditioner
Hydrates and protects hair from the inside out to prevent breakage and fall. It is not necessary to condition in every wash.
Apply an adequate amount of conditioner for oily hair from the mid-shaft to ends.

Leave in for 2-3 minutes for the best saturation.

Rinse thoroughly with warm water

Finish rinsing with cold water to close the cuticle
Step 4
Nurture and protect
With Protein and Vitamin Hair Treatment
Puts protein back into your hair to add volume, boost, and luster without weighing hair down. This product should be used once a week. This is a leave-in treatment and is not necessary to rinse.
Shake before use.

It is always best to have your scalp clean and free of buildup.

Apply the amount of a grain of corn on to the tips.

Gently massage, letting the treatment penetrate into your hair for 10 minutes before drying or styling your hair.