Posted by JustNutritive Team on Aug 18th 2022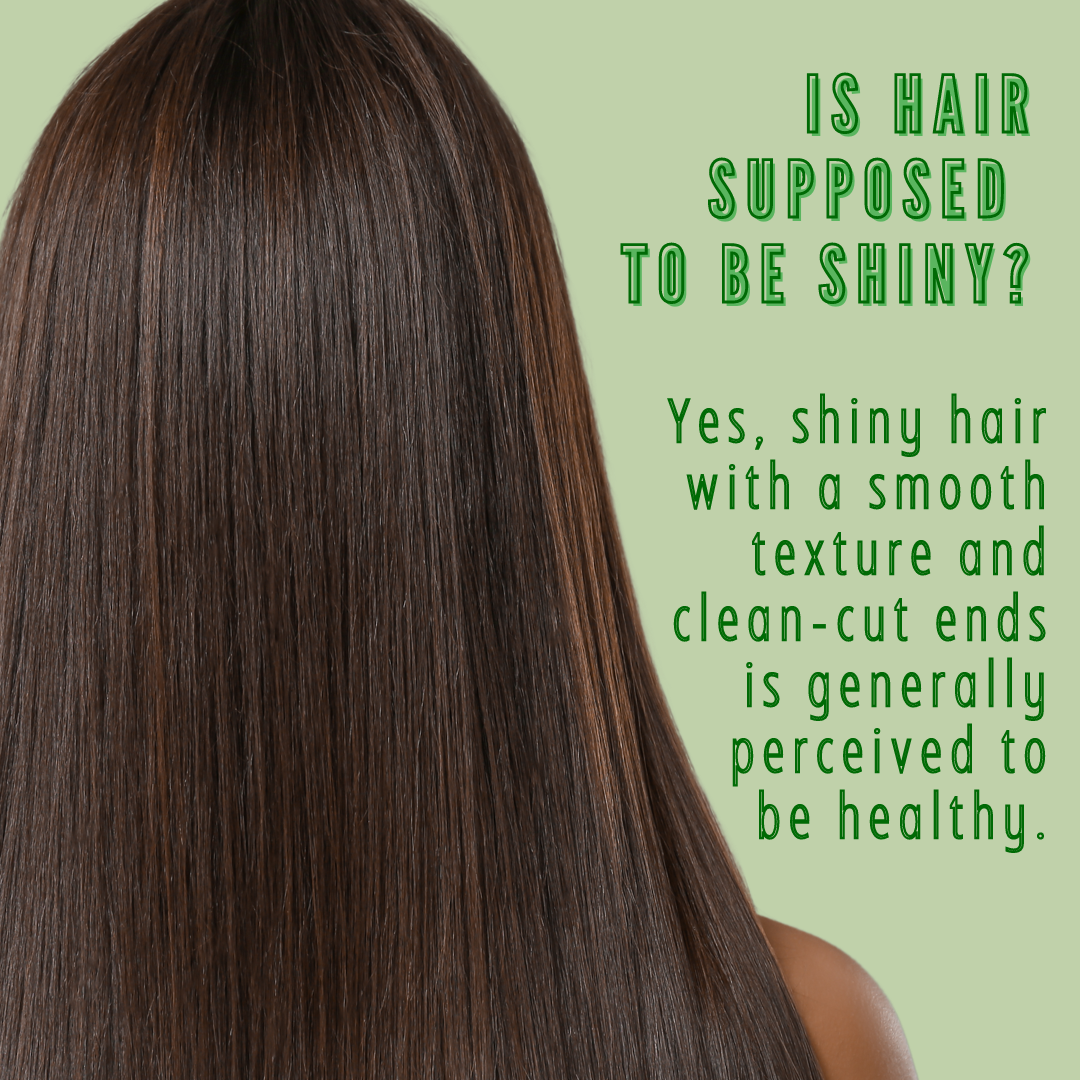 Polish Smooth Maximize Shine.
Immediately leaves your hair brilliantly shiny and healthy-looking from root to tip.
Our shine polish goes beyond the surface of the hair with this extraordinary leave-in treatment that helps repair damage and restores moisture.
Shine enhancing Camellia and Daikon seed oils polish hair strands on the outside while Broccoli seed oil and Jojoba protein fill in damaged areas inside for hair that is nourished and rejuvenated.
Treats dryness and damage from your roots all the way down to the tip and eliminates frizz and fly-away hair without leaving residue.
This lightweight formula is alcohol and silicone-free made from vitamin and protein-rich plant oils and essentials.
Provides long-lasting moisturize for healthy-looking, radiant shine, and silky soft hair.
This light-weight formula softens and conditions hair of all textures without weighing it down leaving sleek radiant hair with vibrant sheen.
Our Shine Polish smooths and softens rough, untamed strands to perfection while delivering glossy frizz free finished shine to hair.
Free of alcohol and silicone, this shine polish is blended with nutritive Olive, Meadowfoam, and Camellia oils to penetrate and smooth hair, so that it stays weightlessly sleek through any weather.
Coconut Fractionated oil has the ability to penetrate hair strands, add protection and helps repair damage from heat styling.
Deeply conditions the hair from the inside out while adding a protective barrier on the outside.
Hold bottle 6-8 inches away and spray liberally onto damp hair before blow-drying.
Or, mist lightly onto dry hair to add shine and keep frizz at bay – it's great for dry ends between washes.
Spraying onto your hair before blow-drying will also help protect against heat damage as well as help straightening irons glide through with ease.
Try concentrating on the mid-shaft to ends where the hair looks the dullest and needs the shine and vibrancy.
• Mist the Shine Polish onto a brush and brush through the length of your hair.
• Use a minuscule amount on wet hair. Air Dry or Blow Dry hair at the lowest setting.
• You can apply this product right after your gel or leave-in conditioner.
• Rinse your hair with cold water to close the cuticle and make your hair shinier.
• Use the cold/cool setting on your blow dryer to set your style and make your hair shinier.
Meadowfoam Seed Oil, Aloe Vera Hydrosol, Olive Oil, Daikon Radish Seed Oil, Camellia Seed Oil, Broccoli Seed Oil, Coconut Oil Fractionated, Jojoba Protein, Sweet Almond Oil, Sunflower Seed Oil, Natural emulsifier, Palmarosa Essential Oil, Fennel Seed Essential Oil, Sweet Orange Blossom Essential Oil, Lemongrass Essential Oil, Geranium Essential Oil, Xanthan Gum, Panthenol B5, Caprylyl Glycol, Glycerin, Natural Vitamin E.
Sweet Almond Oil (Prunus dulcis)
Almond oil is made by cold pressing of sweet almonds. It contains protein, Vitamin E, and B vitamins, as well as essential minerals which restore skin elasticity and hydration. Almond oil has emollient properties, which gives it the ability to rejuvenate and soften the skin and improve the softness and texture of dry thin hair.
Meadowfoam Seed Oil (Limnanthes alba)
Meadowfoam Seed oil is made from the seeds of Meadowfoam grown in Oregon. The name Meadowfoam is derived from the typical white blooming of plants which gives the image of white foam covering the soil. The meadowfoam seed oil has wonderful moisturizing and rejuvenating properties to aid in restoring dry hair.
Daikon Radish Seed Oil (Raphanus sativus)
Daikon Radish Seed oil is made from the seeds of the daikon radish and is a nutritive alternative to silicone. It provides high shine, luster helps with detangling. It is ideal to nourish dry damaged hair.
Broccoli Seed Oil (Brassica oleracea italica)
Cold-pressed from the seeds of Broccoli, this oil is unique for its silicone-like abilities in hair care for creating shiny and glossy-looking hair. It is non-oily and will not leave a residue. Broccoli Seed oil is a nutritive alternative to silicone.
Coconut Fractionated Oil (Caprylic/Capric Triglyceride)
Coconut oil itself is extracted from coconut fruit. In pure form, coconut oil is solid at room temperature. When refined or fractionated, it becomes clear and is liquid at room temperature. Refinement gives it more of an antioxidant and antibacterial effect. This variety of coconut oil is very light and quickly absorbed by the hair. It penetrates hair strands, adds protection, and helps prevent damage. Coconut Fractionated oil is one of the best oils for heat protection.
Avocado Oil (Persea americana)
Avocado oil comes from the fruit avocado, an extremely deep penetrating oil. Avocado is a versatile moisturizer. It contains essential nutrients like proteins, vitamins A, D, E, and B6, magnesium, copper, iron, amino acids, folic acid, as well as potassium known as the youth mineral which nourishes your skin. Avocado oil has high levels of plant sterolins are well known for rejuvenating skin and reducing signs of aging. Avocado oil is one of the oils said to have the ability to penetrate hair strands to be absorbed.
Camellia Seed Oil (Camellia oleifera)
Camellia seed oil has been recognized for centuries for its highly restorative and rejuvenating effect on the skin. Japanese Camellia seed oil is obtained by cold pressing seeds of the Camellia japonica flower without any chemical or heat refining. This nutritive plant oil contains anti-oxidants that help to revitalize and renew skin and hair. It absorbs quickly into hair and restores moisture, and sheen to hair.
Palmarosa Essential Oil (Cymbopogon martinii)
Palmarosa is a tall grass with long stems, aromatic leaves, and flowering tops Palmarosa essential oil is made from the sweet-smelling tropical grass Palmarosa and has the scent of a blend of Rose and Geranium oil. With its rose-like aroma, it has become a favorite way to naturally scent skin and hair care products.
Aloe Vera (Aloe barbadensis)
Aloe Vera has been used for improving skin conditions as the ancient Egyptians called it the "plant of immortality." A succulent plant with rejuvenating and soothing properties, aloe vera holds many benefits for the skin. It has been used topically for thousands of years to improve skin conditions. It contains vitamins A, C, E, B1, B2, B3, B6, and B12. Aloe Vera also contains over 200 other naturally occurring nutrients such as enzymes, amino acids, and sterols. Aloe gel is extracted from the leaves of the plant and when applied to the skin, softens dead skin cells leaving the skin feeling soft and smooth.
This is best hair product I have ever used! This brilliant shine spray gives my hair shine without making it feel greasy or oily I now feel like I can air dry my hair and it doesn't look rough or unpolished, I normally blow dry my hair. I recommend this to everyone!
Denise H. Philadelphia, PA
I purchased this nutritive shine polish because I have really dry dull curly hair and wanted to get something to hydrate my hair. It is amazing my hair feels so healthy after I use it and it gets rid of the frizz. It leaves my hair glossy and moisturized without a heavy, greasy feeling.
Sharon E. Chapel Hill, NC
This shine polish for my hair makes all the difference in the world! A little goes a long way. My hair is moveable, shiny, and beautiful without being greasy! It was recommended to me by my hairdresser, and I must say - WOW! I swear by it.
Belle B. Tucson, AZ
Love this product! My hair never looked better. I have struggled to tame my dull dry long, thick and frizzy hair. Straightening irons smoothed the waves but frizz still was a problem. This nutritive shine polish brightens while smoothing out the frizz. It provides the correct shine level without weighing your hair down or making feel greasy.
Heather M. Sherwood, WI
This is the best shine or finishing product I have ever used on my hair. I warm a tiny dab in my hands and scrunch it into dry hair to impart major shine and softness that lasts all day. This is a fabulous shine product and I highly recommend it.
Maria M. Miami Beach, FL
I really like to use this nutritive shine polish on my dry, brittle ends. It leaves my hair feeling silky, healthy and shiny. This little container will last a long time considering you only need a tiny bit for your hair. This is a great to get a smooth finish when flat ironing your hair. I can't live without this one, definitely recommend.
Tamara F. Austin, TX
I love this product because it adds shine without weighing my fine hair down. I usually spray it on my palms first and then run my hands over my hair. Also works great for frizzy flyaways!
Alaina F. South Pasadena, CA
This polish makes my hair shine like crazy. I have been dying and styling my hair since middle school. I bought this product for the first time a year ago and I usually always have a backup bottle of this product in my bathroom. My hair feels softer and styles easier when I use this polish. You have to use a very small amount to apply to the hair. I have gotten compliments from my husband from how nice my hair is.
Aurora W. Greensboro,NC
Fantastic product. I have thick, shoulder length light brown hair that become super dull after about a day or two of washing. My hair has gotten drier due to the fact that I dye my hair a lighter shade. I love that this serum can be applied on wet or dry hair. I apply a small amount to my hair after blowdrying and flat ironing. My hair turns to literal silk. It is extremely soft, supple, and smooth. This polish will last me forever.
Chloe K. Frankfort, KY