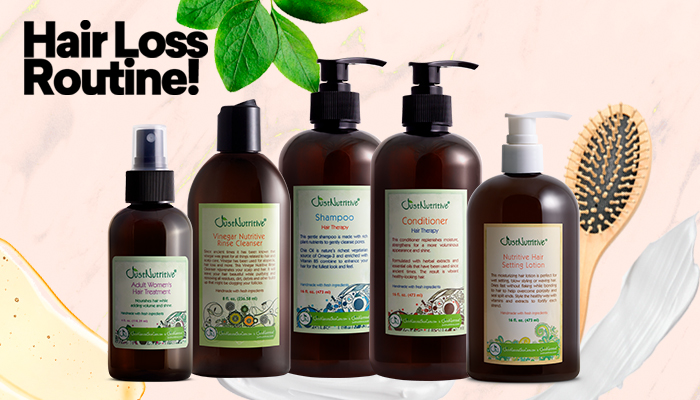 HAIR CARE ROUTINE!
-HAIR LOSS-
There are several causes for hair loss in women, among them include certain diseases, certain medications and physical or emotional stress. Here are five factors for hair loss that occur in women over 50.
Aging

Hormonal changes, Menopause.

Family history of female pattern baldness.

Stress (physical or emotional.

Diet ( poor nutrition).
It is important to have good eating habits and a healthy lifestyle, but you must not forget that having a good hair care routine can considerably improve the appearance and health of your hair and scalp.
Your scalp can suffer from dehydration, lack of nutrients and clogged pores, causing itchiness and dryness and making it weak and thin.
Chemicals. Have you considered that the chemicals in your hair care products may or may not be a main factor that contributes to your hair loss?
When you experience hair loss, the chemical ingredients in your hair care products can be the cause. These can be overly aggressive or damage your scalp and follicles by leaving residue.
For This reason we have designed a hair care routine that repairs damaged hair and promotes soften and renewal of hair so that it feels and looks healthy , while it is nourished .
To begin with , If you are suffering from hair loss, we recommend that you wash your hair 2 to 3 times a week to prevent your natural oils from being rinsed off in the shower . However you can use it daily if you need it .
Step 1
RESTART
With VINEGAR NUTRITIVE RINSE CLEANSER
Helps to restart and re-balance your hair and scalp by gently cleansing to remove built-up residue, dirt or other debris.
Shake well. The vinegar rinse is recommended to be used one time each fifteen days. But you may use it more often if desired.

After shampooing your hair, apply an adequate amount to your scalp.

Massage your scalp gently.

Leave the rinse on for one to three minutes and then rinse thoroughly with warm water.

Step 2
NURTURE
With ADULT WOMEN´S HAIR TREATMENT
Nourish, rejuvenate and repair hair from the inside out and help restore strength, body, shine, and manageability to your hair and scalp.
Shake before use.

It is always best to have your scalp clean and without buildup.

Open your hair roots with your fingers, leaving the scalp clear to apply the serum.

Leave in for 2 to 3 hours or longer.
Step 3
CLEANING
With HAIR LOSS THERAPY SHAMPOO
Cleans your hair while it adds moisture
Shake well before each use.

Wet hair thoroughly.

Massage the shampoo into your hair.

Leave it on your hair and scalp for a few minutes, so the active ingredients have time to work through.

Rinse off.
Step 4
CONDITION
With HAIR LOSS THERAPY CONDITIONER
Deeply penetrates to protect hydrate and nourish from the inside out. Hair that is not properly hydrated and moisturized is more susceptible to breakage and fall.
Apply an adequate amount of conditioner for hair loss from the mid-shaft to ends

Run a wide-tooth comb from roots to ends to detangle hair. This method is the safest way to detangle hair without causing breakage.

Leave in for 2-3 minutes for the best saturation.

Rinse thoroughly.
Step 5
PROTECT
With NUTRITIVE HAIR SETTING LOTION
Feeds and protects the hair from external agents
Apply throughout damp hair before blow-drying or curling, from the mid-shaft to ends.
Use a small amount to prevent your hair from getting oily. About less than a dime-sized amount should do.
Step 6
DRY
Finally let your hair air dry and then comb it with a hair comb suitable for your hair.