Posted by Just Nutritive Team on Sep 12th 2019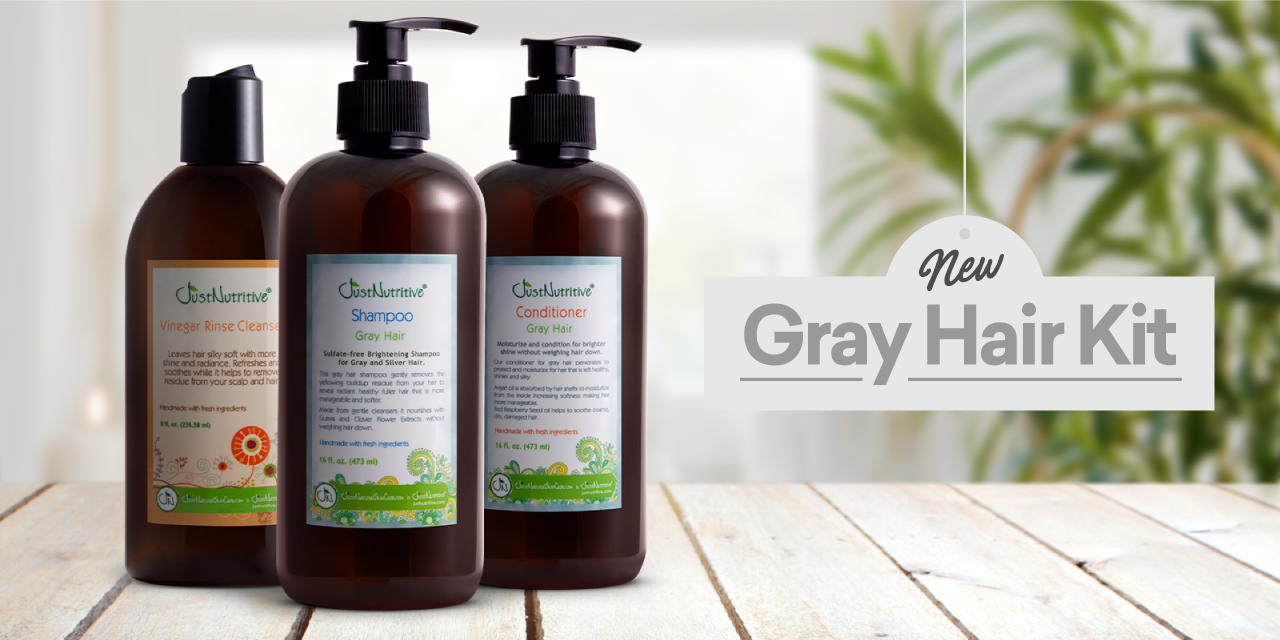 Embrace your natural gray hair!
Get rid of dullness while enhancing shine and removing brassiness.
Gray hair can be out of control or it can be sleek, shiny and sophisticated. Embracing your natural gray requires the right hydrating and cleansing to ensure silver strands appear stellar, healthy and not yellow.
Chlorine, heat styling and products such as shampoos, conditioners, hair sprays, mousses and vitamins can leave a residue on the hair shaft causing yellowness. Yellow hair can also occur as your hair picks up particles from the environment like minerals and other chemical residues in water, sunlight, and even oils from your scalp. This can dull and tinge silver hair, unless you're equipped with a bundle of solutions that keeps your silver hair ultra-shiny and clean.
Our Key Ingredients!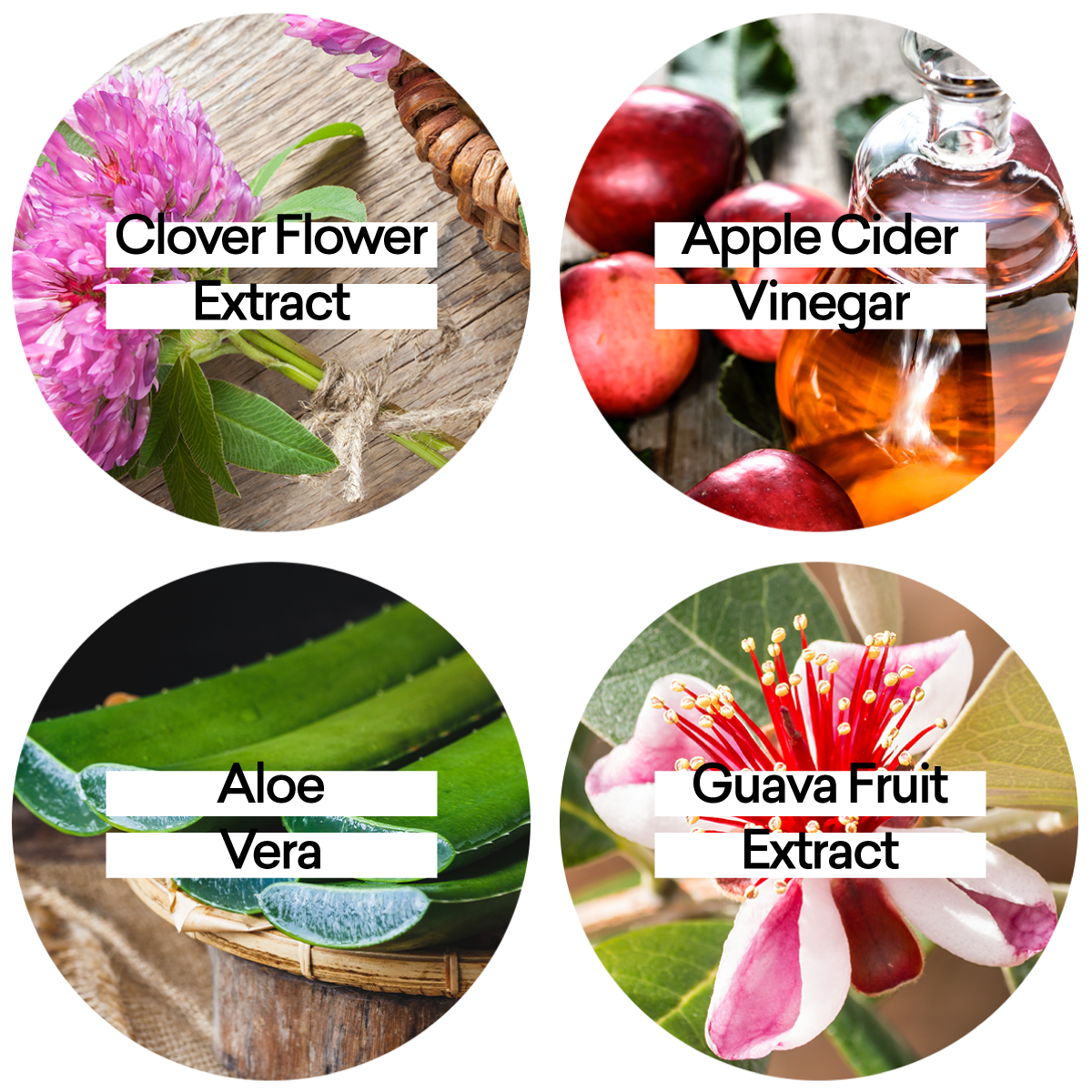 Why they matter?
Clover Flower Extract strengthens and adds volume and luster to make hair more manageable.
Apple Cider Vinegar cleanses and treats the scalp and hair follicles from gray, silver and white hair from hair loss, dull hair, irritation, dryness and the overproduction of sebum. This ingredient will allow nutrients and moisturizers to penetrate the scalp and hair better.
Aloe Vera nutritively conditions gray hair to make it soft, healthy and shiny.
Guava Fruit Extract promotes healthy hair.
Meet the Kit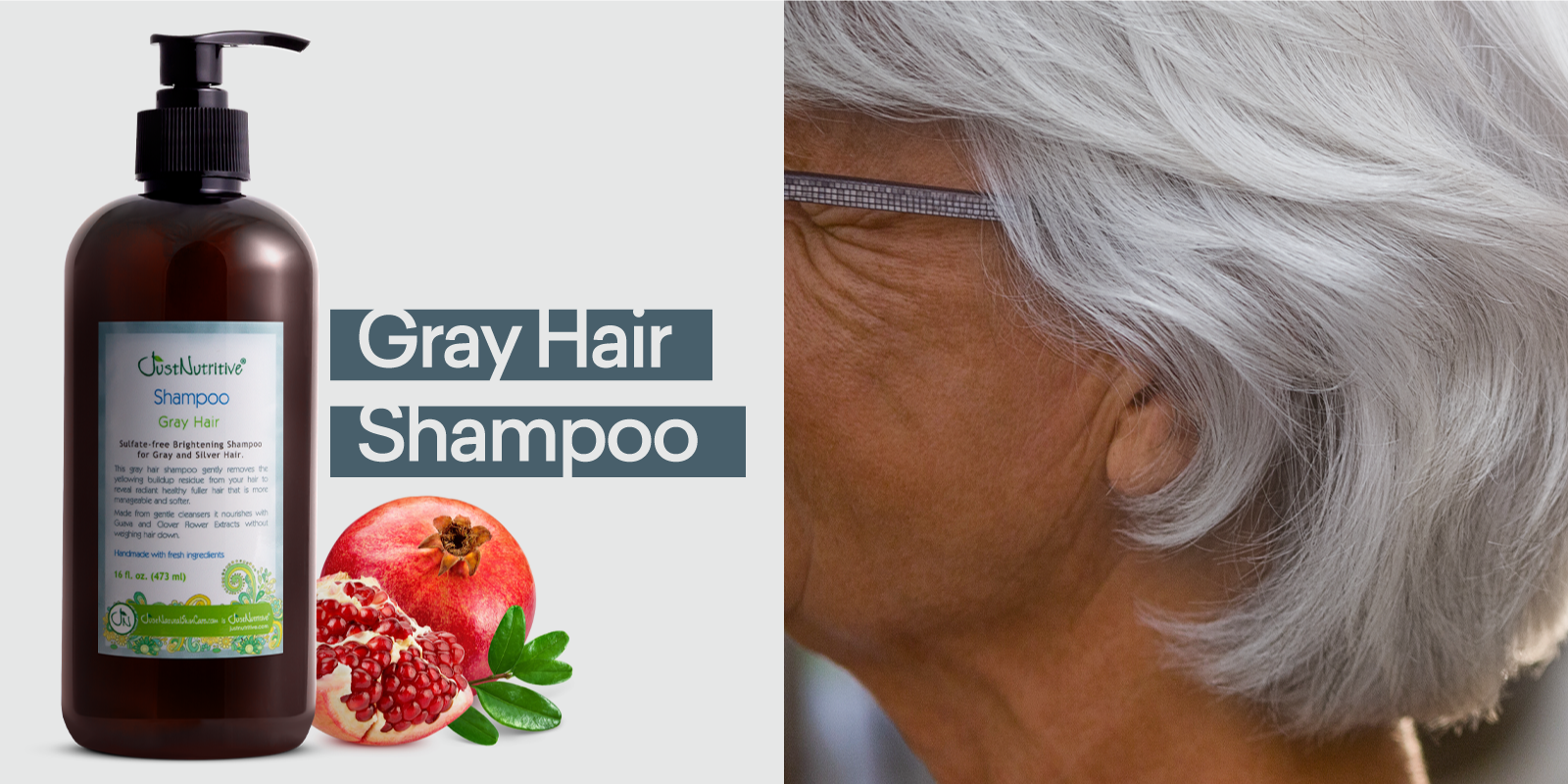 To upkeep your silky gray hair you will need a special shampoo of its own. The Gray Hair Shampoo is a mild sulfate-free gentle formula that cleanses the scalp and hair while revitalizing and softening strands.It will rejuvenate gray hair adding vitamins, antioxidants and nutrients to regain color vibrancy and brim.
Benefits:
Brightens gray, silver and white hair.

Removes excess oils and debris that cause yellowing and dullness.

Reduces yellow and brassy color without leaving residue or buildup.

Restores your radiance to revea luminous, fresh and healthy strands.

Made from gentle cleansers, it nourishes with Guava and Clover Flower Extracts without weighing hair down.

Free of sulfates, parabens, artificial coloring and fragrances.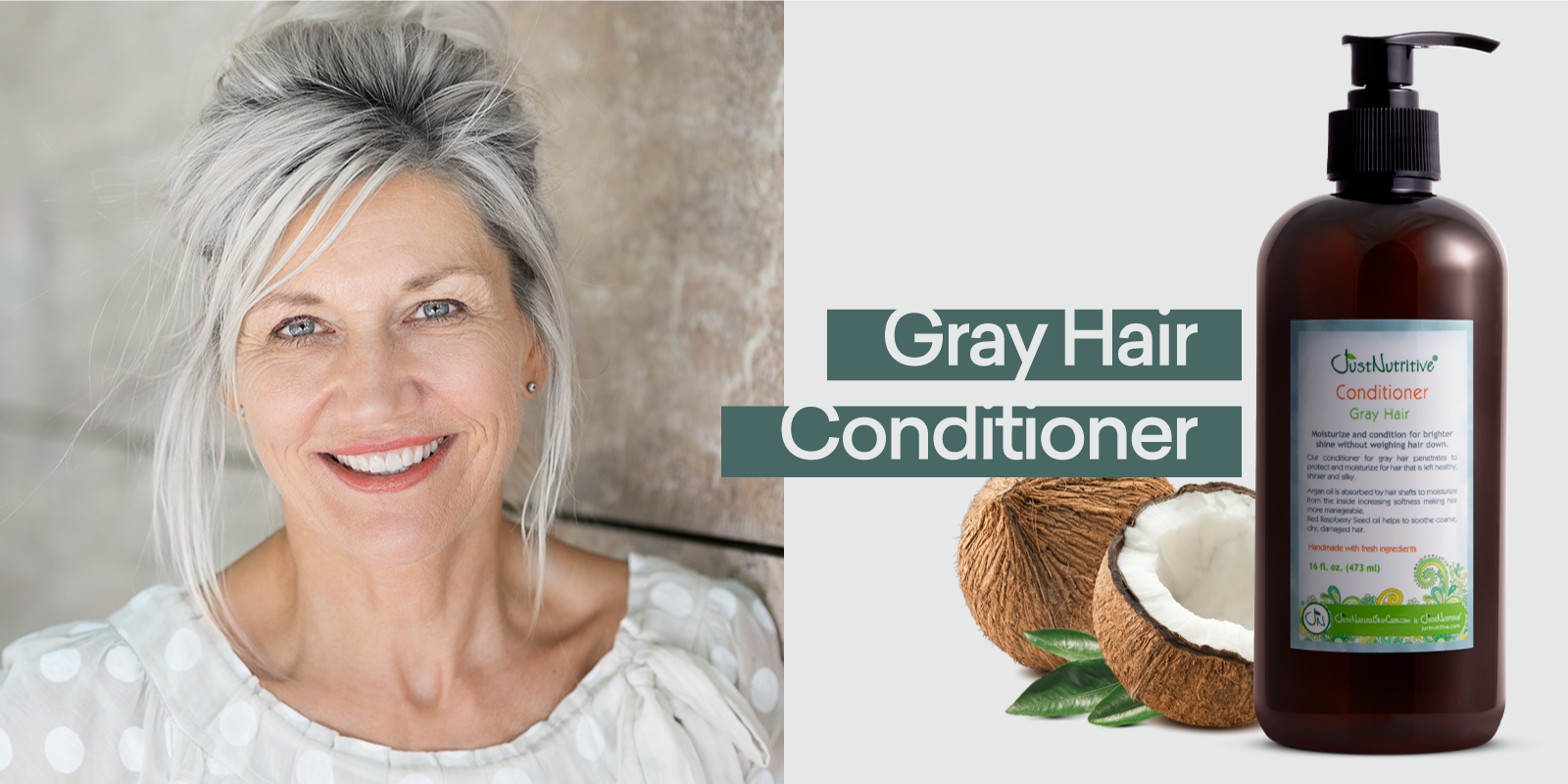 Gray hair also tends to be dry, brittle and frizzy due to the coarseness of the strands. Your hair will gain moisturize and condition without weighing your hair down using our unique Gray Hair Conditioner solution.
Benefits:
Restores gray hair, leaving it fresh and vibrant without weighing it down.

Can be used on both men and women.

Free of sulfates, parabens, and artificial colors and fragrances.

Even the most dehydrated gray hair regains strength, softness, and shine.

Hair that is well moisturized is more resistant to frizz, tangles and split ends.

Nutritive ingredients boost radiance and volume for healthier, fuller and more beautiful hair.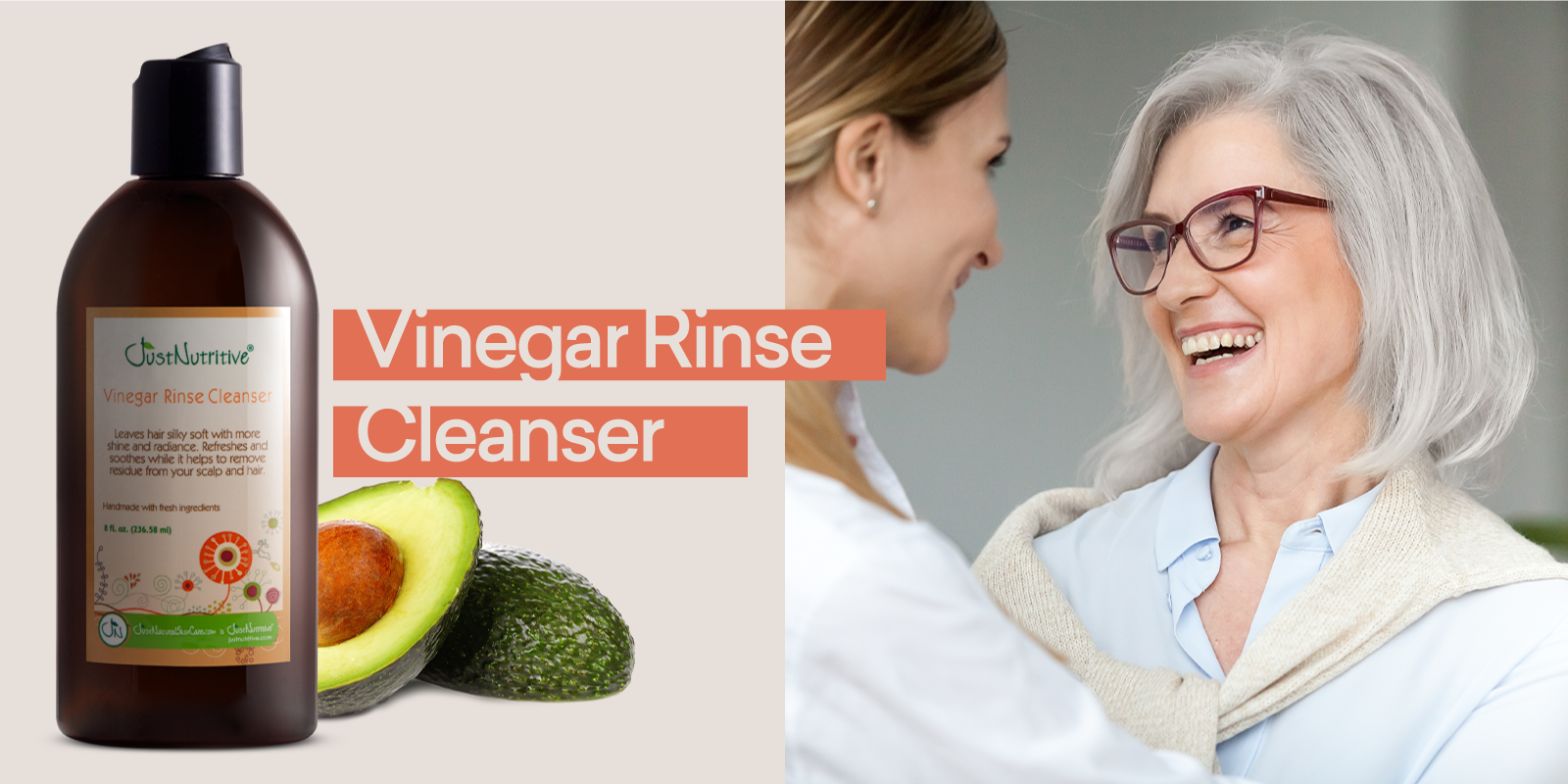 The key to sleek, shiny, glorious gray hair is to remove the excess of build-up!
If your grays are coarser, drier, and more wiry than ever, yet the conditioners your use are not responding, it is a symptom of build-up on your hair. Our Vinegar Rinse Cleanser formula can change the dull appearance of gray hair to become incredibly smooth and shiny, plus giving you a vibrant sophisticated color.
Benefits:
Protects the longevity of your color.

Removes Build-up to grow healthy hair.

Prevents gray hair to turn yellow.

Encourages responsive hydrated hair.

Smoothe the transition from dyed hair to your natural gray hair.
How to Use your Kit in 3 simple steps!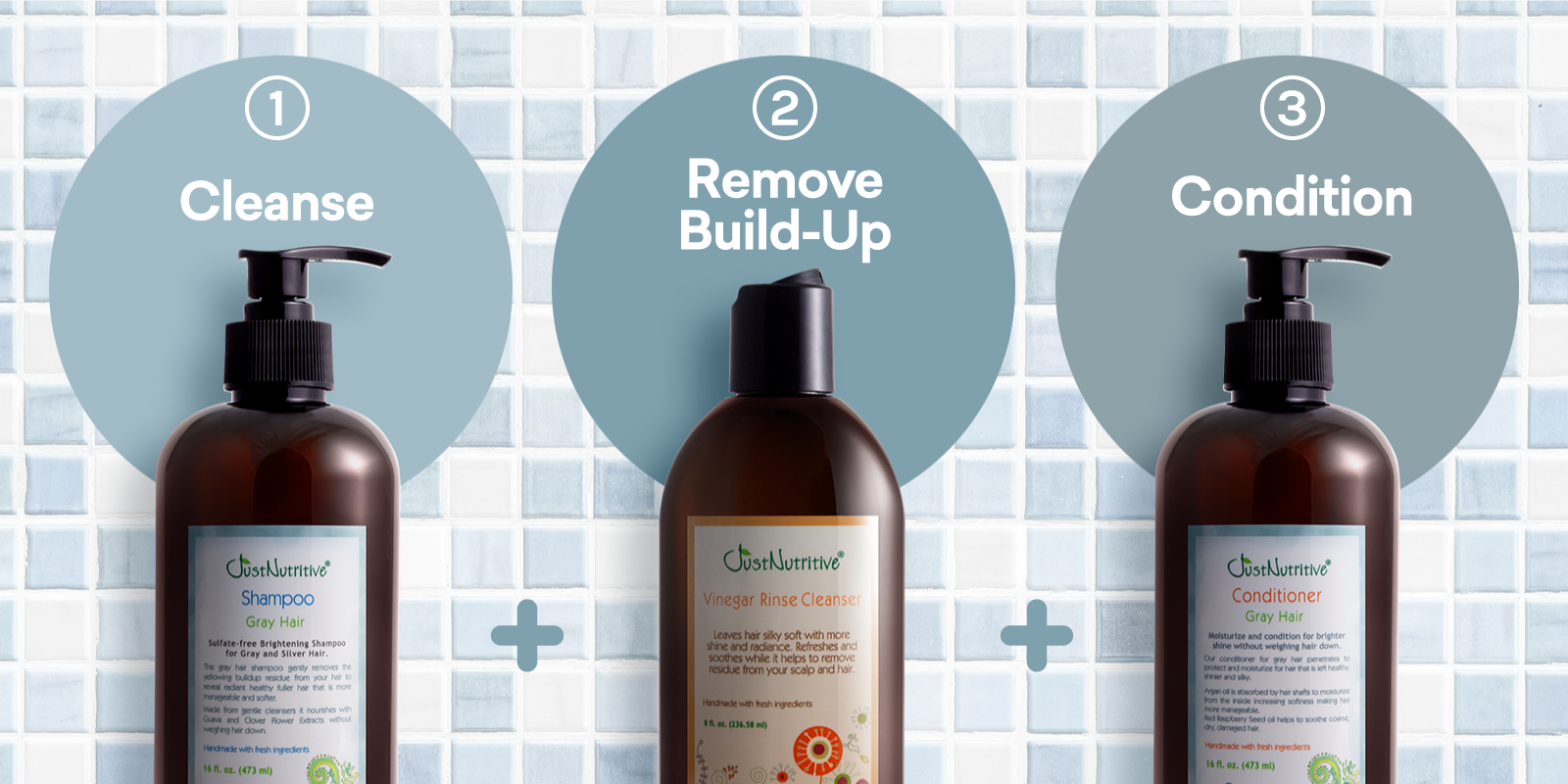 1. Cleanse
Shake well before use.

Wet hair thoroughly.

Massage the shampoo into your hair.

Lather and leave on hair and scalp for a few minutes.

Rinse thoroughly.

For best results, use at least twice weekly and follow with conditioner.
2. Remove Build-Up
For gray hair use this vinegar rinse cleanser every fifteen days or as needed to remove build-up and to maintain your scalp's health.

Shake well to ensure the 23 natural ingredients are well blended.

You can apply after shampooing your hair with our gray hair shampoo. Use an adequate amount to your scalp and hair.

Massage your scalp gently using your fingers for about 1 to 2 minutes.

Leave the rinse on your gray hair for five minutes more and then rinse well with warm water.

Follow with gray hair conditioner.
3. Condition
Apply an adequate amount of conditioner for gray hair from the mid-shaft to ends first, like you're making a ponytail on wet, shampooed hair.

Work anything that's left through the roots and crown.

Run a wide-tooth comb from ends to roots to de-tangle hair.

This method is the safest way to de-tangle hair without causing breakage.

Leave in for 2-3 minutes for the best saturation.

Rinse thoroughly.

Conditioning may not be required each day.