Posted by JustNutritive Team on Sep 16th 2020
What makes our Tanning Indoor Oil, Tanning Indoor Lotion, and Sunless Tanning Lotions different?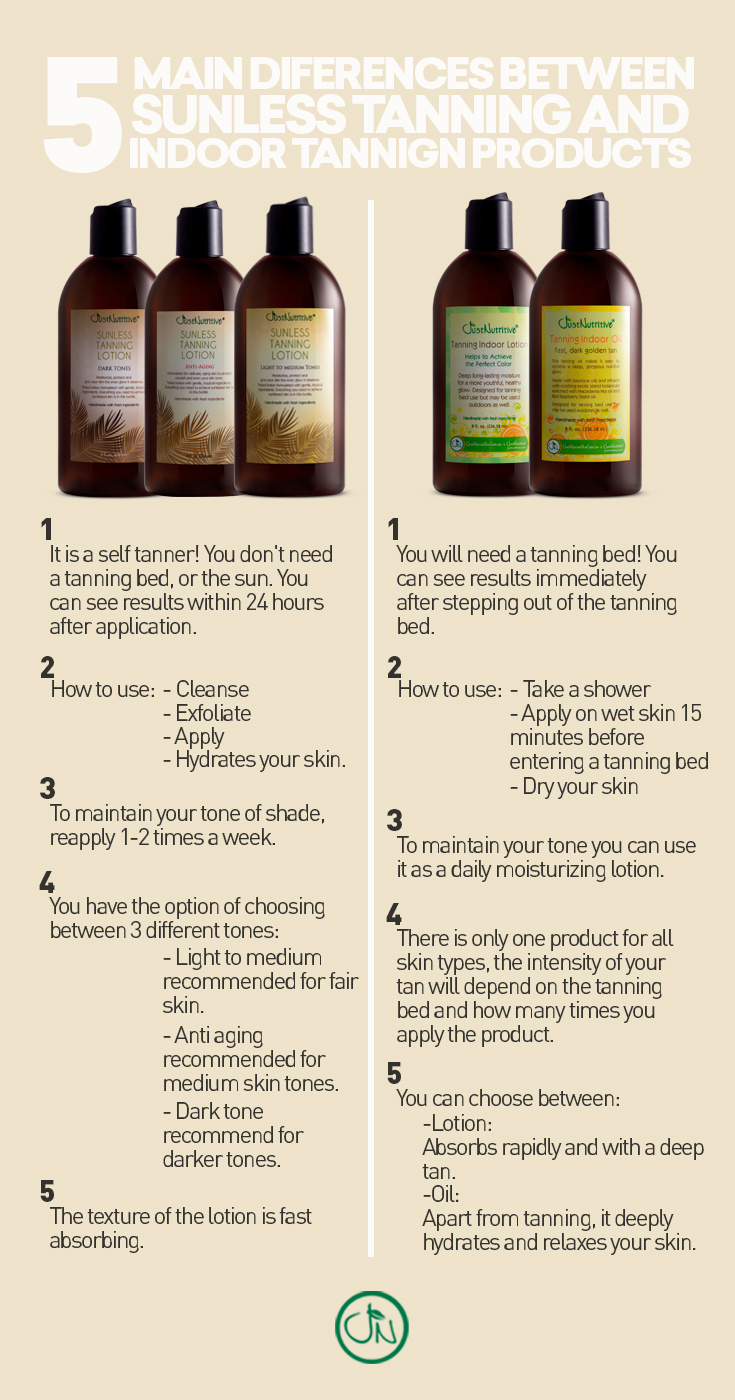 Deciding which tanning products to use can be confusing, and since there are tons of them in the market, it can quickly turn into a big headache for such a small decision. So how do you know which one to choose?
At Just Nutritive, we have riveting sunless tanning solutions that will give you a wide range of tropical shades no matter what skin you live in. However, it is fundamental to know what is what, to achieve your tanning goals.
The first difference between our indoor tanning solutions (oil and lotion) and our sunless tanning solutions is the product's consistency. There is a noticeable difference in the texture of each and on how they feel on the skin. Oils may feel more greasy than lotions. Some people like the way oil looks on their skin because it makes the skin appear more supple and shiny, while others may not like the greasy feeling that it leaves behind.
When choosing between these two groups of products, one of the biggest questions is deciding WHAT YOUR PURPOSE IS in putting them on.
Here we must start saying that both Tanning Indoor Oil and Tanning Indoor Lotion were intended mainly to be used when hitting a tanning bed. These are safe formulations to enjoy if you are craving for a quick escape to the tanning salon. You can also use them as suntan solutions, but be aware they do not contain any SPF or sunscreen, so be careful not to lay under the sun for too long.
Now, the Indoor Tanning Oil is typically used to get a deep dark fast tan while letting your skin barrier retain more moisture. We recommend this option for people who already have a nice tan base to build on. People with very fair or light skin will probably want to avoid using oils at first.
On the other hand, the Indoor Tanning Lotion is likely to soak into the skin more rapidly without leaving a greasy sensation or appearance. It has higher moisturizing benefits and is appropriate to be used by people of all skin types.
When it comes to our Sunless Tanning Lotions, we must say these are products whose active ingredient is the color additive dihydroxyacetone. DHA is an ingredient derived from sugar (approved by the FDA) that reacts with dead cells in the skin's surface layer to darken the skin and simulate a tan temporarily.
You can choose between our Light To Medium Lotion (recommended for fairer skins), Anti-Aging Lotion (for a flawless golden skin), and Dark Tones Lotion (which will deliver a tropical bronze dark tan). You can always build up your color by getting more applications, but the desired color is usually reached within about 8 hours.
To wrap up, choosing between a tanning oil or a tanning lotion is a matter of personal preference. However, if you are not much of a friend with the sun's effect on your skin and want to go for a fast, even, natural tan no matter where you are or what time of the year it is, these are hands-down your go-to products to achieve a gorgeous summer glow!