Posted by JustNutritive Team on Aug 17th 2019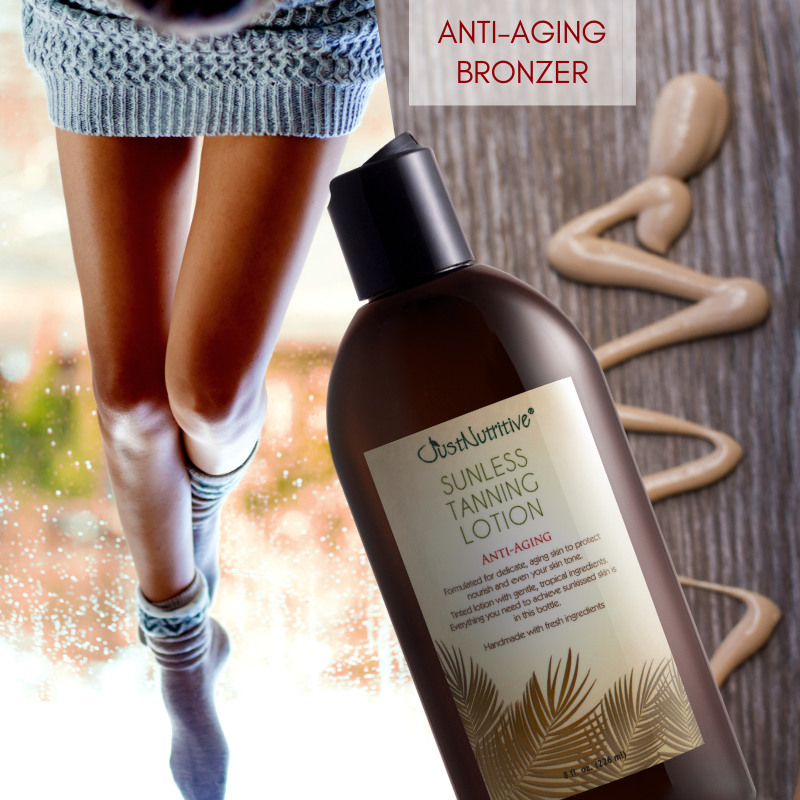 This is very nice to use on legs and places that don't get full sun light.
It creates a perfect subtle glow. I have used this lotion multiple times and definitely see the difference. My skin does not look dry or patchy either the day after. The ingredients make my skin look very nourished and the smell is quite delightful. I am a women nearly in my 70s and everyone wants to know my secrets for having skin that looks so youthful. Another amazing product from Just Nutritive!
Valentina A. Tacoma, WA
I have tried so many different brands of self-tanners and this lotion is still one of the best tanners. I am in my late 50s with very fair skin and this lotion does not make my skin patchy nor orange.The smell is pretty light for me so I don't get offended by it. I apply a thin amount on my moisturized skin and wait about 5 minutes to apply another layer. My skin gets lightly bronzed and healthy within the next day. My friend constantly asks me what I was using. It's a bit difficult to apply to the rough areas of the skin but this is still a great product.
Ruby I. Bend, OR
I usually hide my legs under long pants, skirts, or jeans. I am so embarrassed about how bright my legs are. I bought this for when I want to wear shorts or skirts. This lotion adds color to my pale legs and lightly cover my sun and age spots. The smell for me is pretty strong. The lotion blends nicely into the skin without getting sticky. The tan stays on for a couple of days and this product does not rub off on my clothing. It is a very good tanner for anyone who wants to get a real tropical tone to any part of their body.
Nina U. Newport, RI
Best self-tanner out there.The lotion does not smell bad, is made with amazing ingredients, and make my crepey skin look smoother and healthier. I love that my skin would look orange but I turn to a very pretty golden tan. Exfoliating is a must for smooth even color. My husband asked me if I have gotten a tan outside. This is a keepsake!
Phoebe M. Carson City, NV
I highly recommend this product for anyone looking for some tropical looking color. It is a very smooth lotion that glides like better than some of my favorite moisturizers. The lotion gives me a soft tan with a bit of dewiness. To maintain the tan, I apply a small amount every day. I do recommend to shave and exfoliate before apply for smooth coverage!
Rosalie S. Utica, NY